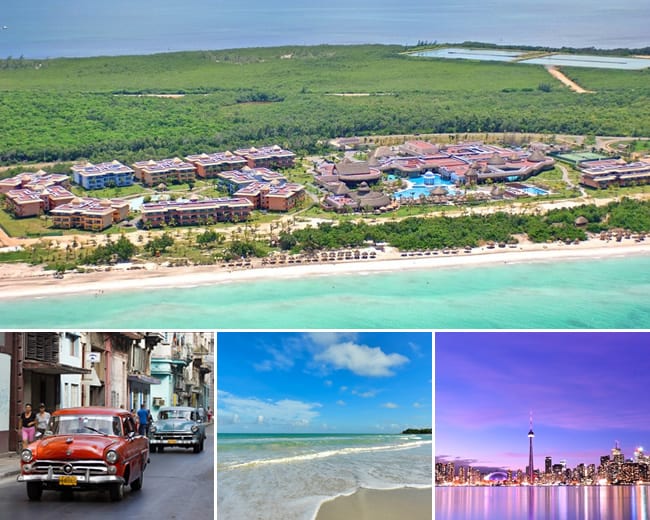 Enjoy a superb itinerary, combining the UNESCO World Heritage capital of Cuba – Havana, the endless beaches of Varadero and Canada's most dynamic city – Toronto, with Cuba Travel.
Cruise Havana's history-infused streets in a classic car and stroll along the cobblestone avenues to the rhythms of music floating from open windows.
The ideal destination for sun, sea and romance, Valadero makes the ideal setting for your Cuban getaway. Roam the bustling streets of Havana, a city bursting with colourful colonial architecture, effervescent energy and captivating culture.
Test your salsa skills at the many clubs and dance halls, take in a cabaret show at the world famous Tropicana, or simply bask in the stunning sights of this enchanting city.
Then head for one of Canada's most popular cities. With exciting attractions, live performances, major league sports and a festival for nearly everything, you'll never run out of things to do in Toronto.
Spend 10 nights in Cuba followed by 2 nights in Toronto from only €2290pp.
3 nights at the Iberostar Parque Central, Havana
7 nights at the Iberostar Varadero Hotel,Varadero
2 nights at the Eaton Chelsea Hotel, Toronto
Price includes: Return flights with Air Canada Rouge to Havana ex. Dublin, flights to Toronto ex. Havana, 12 nights' accommodation, visas, taxes and charges.
Travel: May-June and September-October 2017
Offer are subject to change and availability. 
TravelMedia.ie
Michelle Ryan
Phone: 083 1042620
Michael Collins
Phone: 086 8583585
Niamh Waters
Phone: 086 0492394