Smartphones have made it easy to book a holiday with a quick click on an app but there are many reasons to consider booking with a travel agent instead. Not only do travel agents offer an incredible pool of advice you can trust, they can also get you the best value deals every time. Most importantly, if anything goes wrong, they can step in and offer a solution. If that hasn't convinced you, here are 10 reasons to book with a travel agent…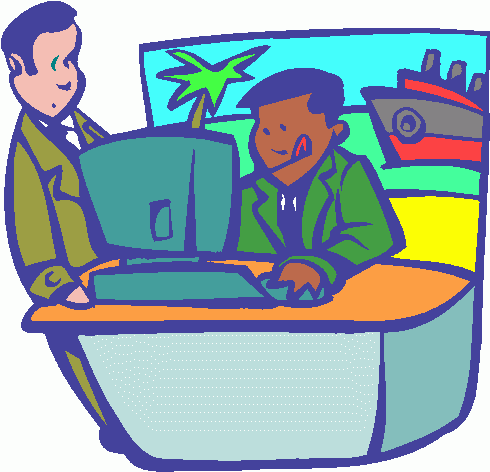 1. Security
Travel agents are bonded and licensed so no matter what happens, from flight cancellations to ash clouds, your holiday is secure. This peace of mind is priceless and ensures you can put your feet up before you even reach the airport.
2. Saves time
Search for 'holidays in Las Vegas' or 'honeymoons in Barbados' (or wherever you fancy) online and you'll find thousands of results to trawl through. Even if you ask friends and family for advice and spend hours reading online reviews, there's still a huge amount of planning and research needed before you even think of clicking 'book'. One of the best reasons to book with a travel agent is their in-depth knowledge of destinations, airlines and resorts. A travel agent will save you an enormous amount of precious time. As Martin Skelly of Navan Travel and President of the ITAA, puts it, "You don't need to do your homework for a successful trip. We already have it done for you."
3. Knowledge
Travel agents have been there, done that and bought the t-shirt. Ben Greene of Arrow Tours says, "We know the best resorts, the best properties in each resort, the best rooms in each property. We know what's going to fit the 5* pocket down to the 2* pocket. We also know what's going to fit the 5* taste with the 2* pocket!"
4. Value for money
Fourth on our list of top 10 reasons to book with a travel agent is one of the most compelling – value for money. Travel agents can get you the best deal around but their focus is always on value, rather than cutting corners to get you the lowest price. Ben Greene continues, "We offer the very best value for money. This is not necessarily the cheapest. What we like to sell is quality."
5. Stress-free holidays
Unlike an online site where you book your holiday and then you're on your own, travel agents are contactable each step of the way. Pamela Brownlee of Fly Away Travel says, "Travel agents are always on hand for queries or travel concerns before, during and after your trip. This takes all the stress and responsibility away from the holiday-maker so you can enjoy your holiday." 
6. Insider access
With their insider know-how, travel agents make sure you get the best offers. Ben Greene explains, "Travel agents have access to "Trade Only" sites which offer the very best available rates for all products – flights, transfers, accommodation, attraction tickets, insurance and more." 
7. No hidden charges
A good travel agent is upfront about the total cost of a trip before you book. Ben Greene says, "Go online and search for a holiday. Compare that price with the exact same product booked through a travel agent. Now, for example, you get to the airport and pay €40 to check-in, whereas we check in our customers online for free for both their outbound and inbound flights."
8. Help in emergencies
If anything goes wrong, a travel agent can save the day. Having someone to help in an emergency is definitely one of the top 10 reasons to book with a travel agent. Martin Skelly says, "Something unforeseen can happen at any time. In this situation, a travel agent can suggest alternatives, implement changes and produce the correct documentation." Ben Greene agrees, "If the holiday-maker gets to their hotel and there is no reservation, who do they call? Our hotel vouchers list a 24 hour mobile number that can be called. It's my number!"
9. Flexibility
Travel agents know how busy their clients are so they always aim to be flexible and easy to work with in every way. Martin Skelly says, "You can deal with us online, on the phone or in our shops. Behind every good travel website is a travel agent, and in every good travel agent is a person who knows the market inside out. We also offer flexible payment options."
10. Long-lasting relationship
And finally on our list of top 10 reasons to book with a travel agent is the advantages of building a long-lasting relationship. By talking to a travel agent about what you want from your holiday, they get to know you and your needs. Over time, they learn what you like and don't like on your travels and this relationship means they can create your dream holiday. "You build a relationship with your travel agency," says Pamela Brownlee. "This means we can perfect our customers' every need for future bookings to ensure an enjoyable holiday each and every time. As a result, a travel agent always has the holiday-maker's best interests at heart."
Are you convinced? Is there anything you would add to our 10 reasons to book with a travel agent? Let us know your thoughts on booking with a travel agent by tweeting us @TravelMedia_ie!