Authors: Michael Collins, Niamh Waters, Alastair McKenzie
Below is a list of social media and digital marketing conferences in 2019 into 2020 that we feel are of particular interest to the travel industry.
Some conferences may have already happened, but remain listed in anticipation of next year's details.
The list is meant to be as comprehensive as is possible, and will be updated on a regular basis. We therefore welcome your feedback. Any edits, amends or additions please send them to: mailto:michael@travelmedia.ie
____________________________________________________________________________
BlogVille, Emilia Romagna, 14 October – 4 November 2019
Developed by the Emilia Romagna Region Tourist Board together with iAmbassador, the BlogVille project brings together, since 2012, digital influencers from all over the world to Emilia Romagna, Italy.
Nordic Bloggers Experience, Helsinki, Finland, 13 – 23 January 2018 (2019 TBC)
NBE is a combined blogger experience & conference centred on the annual Matka Nordic Travel Fair in Helsinki. Around 50-60 influencers are invited to tour Finland and then speak/network with the industry at the travel fair.
OTM, Mumbai, 23 – 25 January 2019
OTM is the largest and most international gathering of travel trade buyers and professionals in India. Learn, network and connect with 1000+ exhibitors and 15,000+ travel trade visitors from around the world in 3 days at OTM.
ENTER 2019, Nicosia, Cyprus, 30 January – 01 February 2019 
This is a digital travel conference with academia and travel industry professionals in attendance. Technology experts, local authorities and International companies like Expedia and IBM, will come together with academics from around the world to discuss and exchange ideas on industry problems, ongoing research, latest trends and the future of technology and Tourism.
Hostelworld Conference, Dublin, Ireland, 28 – 30 January 2019
Two-day annual conference with a focus on digital marketing and social media for those in the hostel industry.
Bloggers UTD, NH Belfort Ghent, Belgium, 2 February 2019 
This travel gathering is the biggest tourism event for online influencers in Belgium. The travel gathering is Belgium's first ever blogger event in tourism.
Meet the Media, Dublin, Ireland, 18 February 2019
Meet the Media is a one-day networking event for the international travel trade and Irish media, which takes place in the 5* Radisson Blu Royal Hotel, Dublin. This unique event connects media from all over Ireland (print, broadcast, online, digital, bloggers, influencers) with 30 worldwide travel suppliers including airlines, hoteliers, tourist boards and tour operators.
https://www.travelmedia.ie/meet-the-media/
INFLOW Travel Summit by Qatar Airways Doha, 25 – 27 February 2018 (2019 TBC)
INFLOW (Influencers of The World) organises Brand-2-Influencer summits for a range of industries.
Travel industry community & publisher, offering a number of conferences focusing on digital technology, social media marketing and travel content.
EyeforTravel Smart Travel Data Summit North America – Miami. 27 – 28 February 2018 

(2019 TBC)

EyeforTravel San Francisco. 14 – 15 March 2019 
EyeforTravel Europe – London. 21 – 22 May 2019 
EyeforTravel North America – Las Vegas. 18 – 19 October 2018
EyeforTravel Data and Digital Europe – Amsterdam. 28 – 29 November 2018 

(2019 TBC)
ITB, Berlin, Germany, 6 – 10 March 2019 
ITB Berlin is the world's largest tourism trade fair. It has a busy programme of digital marketing, & social media events including expert industry and influencer panels & presentations. There are now two spin-off conferences…
ITB China – Shanghai. 16-18 May 2018
ITB Asia – Singapore. 17 – 19 October 2018
Women's Travel Fest, New York, USA, 8 – 10 March 2019 
The Women's Travel Fest is a 3-day event that aims to inspire, empower and connect women in travel.
DMX Dublin, Aviva Stadium, Dublin, 7 March 2019 
DMX Dublin features over 30 world-leading speakers in multiple presentation streams, and over 900 marketing professionals attendees in a full day of sharing, learning and networking. A Marketing Institute event, DMX Dublin celebrates the crossover of marketing, digital, creative and media. Over the past 5 years it has become Ireland's must-attend marketing event of the year, bringing together top international and Irish marketing leaders, marketers from multinationals and start-ups, advertisers, creative agencies, digital agencies, online publishers and vendors.
Social Media Marketing World, San Diego, USA, 20 Mar – 22 Mar 2019
Claims to be "the world's largest social media marketing conference". With around 5,000 it probably is. A busy programme of presentations, panels & workshops from top social media marketers.
International Media Marketplace
IMM is a scheduled-meeting networking event run by Travmedia.com in five locations worldwide. Local tourism organisations & travel brands take stands and meet with bloggers, influencers, traditional travel writers and other travel media over a day.
IMM USA – New York, 24 January 2019
IMM Australia – Sydney, 22 February 2019
IMM Germany – Berlin, 5 March 2019
IMM UK, London, 25 March 2019
IMM Brazil – São Paulo, 1 April 2019
IMM France – Paris, 24 September 2018 

(2019 TBC)

IMM Asia – Singapore, 16 October 2018 

(2019 TBC)
EventCamp, Nashville, USA, 30 April 2019 
EventCamp is a gathering for restaurant and hotel sales and event professionals focused on one big goal: to learn about innovations that help them increase sales, stay on top of trends, work smarter using technology and data, and grow their business.
Digital Tourism Think Tank; Content Campus, Oslo, 13 – 14 June 2019 
Over the course of 2 days we will be talking all about content and the people behind it. We will be inviting a wide range of Content Leads and Creators to share their work with you and engage in discussion as they reveal the process behind it.
Digital Travel Summit APAC, Singapore, 1 – 3 April 2019 
Digital Travel APAC brings together top minds at Asia's most successful airlines, hotels, OTAs, metasearches, tours and activities, car rentals, cruise lines and tourism boards to plan eCommerce, digital marketing and customer experience strategies for growth in 2019 and beyond.
Phocuswright is a travel/tourism industry research company that hosts a number of conferences and events…
Phocuswright India – Gurugram (Gurgaon), NCR, India. 19 – 20 April 2018 (postponed, noted added Jan 2018, see website for updates)
Phocuswright Europe – Amsterdam. 15 – 16 May 2019
Phocuswright Conference – Ft. Lauderdale, Florida, U.S. 19 -21 November 2019
Arabian Travel Market, Dubai, 28 April – 01 May 2019
The annual business-to-business (B2B) exhibition showcases over 2,800 products and destinations from around the world to over 28,000 buyers and travel trade visitors across four days at the Dubai International Convention and Exhibition Centre (DICEC).
Salon De Blogueurs De Voyage, Lille, France, 10 – 12 April 2019
A boutique conference for French travel bloggers, run by We Are Travel.
Aveyron, France, 23 – 25 April 2018 (2019 TBC)
The first edition of the Salon of Travel Bloggers, also called Salon We Are Travel (or WAT), was held in Cannes in September 2014. Since then, each edition has been a real success and welcomes more and more participants. Every year, in a different destination, bloggers and e-tourism professionals meet for 2 days to discuss influence marketing and Networker.
NATJA Conference & Marketplace, Syracuse, New York, 15 – 18 May 2019
North American Travel Journalists Association conference provides the opportunity to engage and network with fellow members – both media and destination representatives – throughout the conference, participate in top-notch professional development, and enjoy the best sites and gastronomy in the host destination.
Women in Travel Summit, Portland, Maine, 3 – 5 May 2019
The clue is in the name; a 2-day conference (with several days of pre-conference events) for women travel influencers and industry members.
Traverse, Hamburg, Germany, 28 February – 3 March 2019 
Traverse is a 2-day blogger conference aimed at new bloggers and influencers developing their skills. It started in Brighton in 2013 and moved around the UK (Newcastle, Kingston-upon-Thames, Cardiff) ending up in London in 2017 with around 500 delegates. In 2018 it moves to the continent (Rotterdam). Speakers are mostly pro-bloggers, and experts in marketing, editing, videography, etc. Travel & Tourism brands use the conference and its social events running over the preceding week, to network with up and coming bloggers. Traverse also run half the social media programme at World Travel Market, and a number of other social media marketing & networking events.

Ping Festival, Helsinki, Finland, 8 May 2018 (2019 TBC)
The Ping Helsinki Business Festival brings high-end professional influencers together with brands to talk about content and influencer marketing.
Digital Travel Summit, California, USA, 8 – 10 April 2019
DTS focuses on digital marketing, eCommerce strategy and customer engagement for travel, hospitality and leisure companies.
Digital Travel Summit EU, London, UK, 25 – 26 June 2019
Digital Travel is for travel, hospitality, and leisure executives in digital marketing and customer experience who are looking to build world-class brands. Join over 75 of the industry's leading brands at Digital Travel, as they meet, network, and inspire.
FTE is an event and online media business focused on the air passenger experience. FTE has four annual events around the world: FTE Global, FTE Asia EXPO, FTE Europe and FTE Ancillary. Every FTE event includes 'On the Ground' and 'Up in the Air' conference streams, and an exhibition of the latest solutions and services.
FTE Europe + FTE Ancillary – Istanbul, Turkey. 18 -20 June 2019
FTE Global – Las Vegas, USA. 4 – 6 September 2019
FTE Asia – Singapore. 12 – 13 Nov 2019
Launched originally as "Travel Blog Exchange", TBEX runs multiple annual travel blogger conferences for up to 600 blogger & industry delegates, worldwide. TBEX conferences nominally run for 2-3 days but there is usually a programme of pre-TBEX tours & events and post-TBEX fam trips that expand the whole thing out to a week or more.
TBEX Europe – Ostrava, Czech Republic. 26-28 July 2018 

(2019 TBC)

TBEX North America – Billings, Montana, USA. 11-13 September 2019
Content Marketing World, Cleveland, Ohio, USA, 3 – 6 September 2019 
Major (4000 delegates) digital marketing conference with a packed programme of presentations, panels & workshops.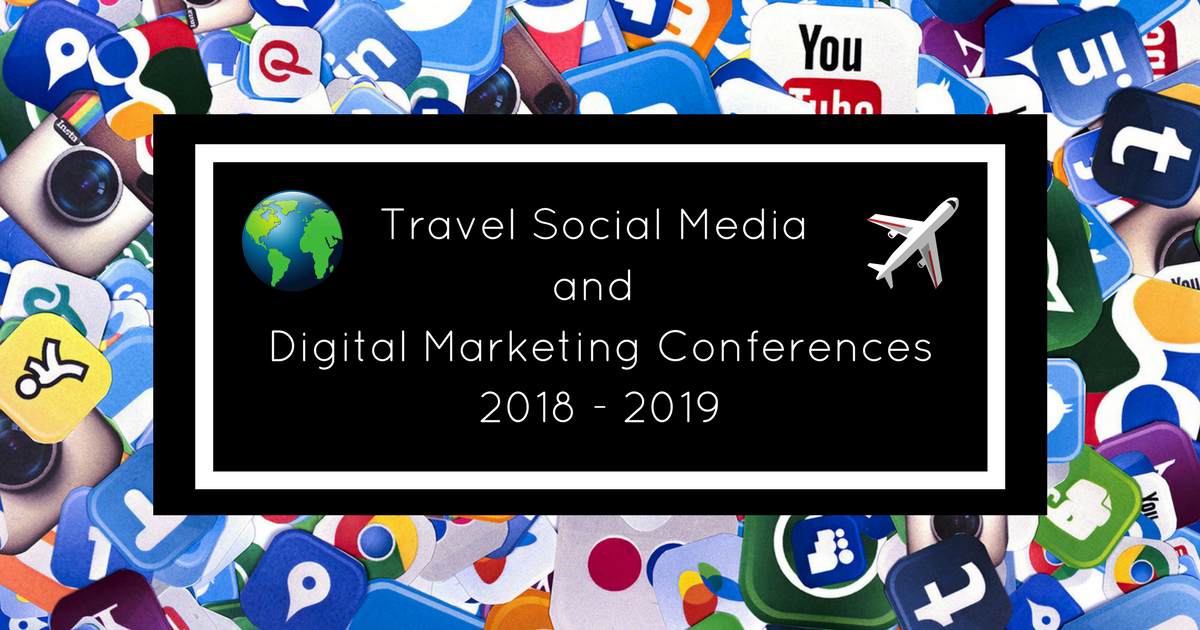 INBOUND, Boston, USA, 3 – 6 September 2019
INBOUND 2019 is more than just four days of learning and inspiration. It's a place where you can step back from your day-to-day, and think about big ideas, not if you remembered to email Karen back. Finally, you'll have the mental space to look at your opportunities and challenges in new ways and from new perspectives. If you think you have your best ideas in the shower, you haven't been to INBOUND yet.
Social Travel Britain, (2019 TBC)
STB is a small conference putting together travel influencers with local & regional tourism organisations and travel companies. This year the organisers (who also run half of the social media track at WTM London) say they are planning a simple one-day event in September.
 Travel Media Showcase, DeKalb County, Georgia, 20 – 23 August 2019 
Travel Media Showcase, offers a unique opportunity for top travel journalists and travel industry professionals to meet one-on-one, at a single location, for the purpose of exchanging information and developing personal contacts.
TravelCon, Boston, Massachusetts, 27 – 29 June 2019
This three day conference will connect you with industry leaders, influencers, and celebrated writers through keynote speeches, small group writing and photography workshops, breakout tutorial sessions, and industry panels. You will learn what's working in today's competitive travel industry, timeless business practices, and the skills you need to succeed as a creator.
Social Travel Summit, Ravenna, Italy, 24 – 25 September 2019 
STS, now in its fourth year, is a forward-looking conference developing new ways and ideas for the travel & tourism industry to work with top professional travel bloggers & influencers who are there by invitation only. One highlight is the Think Tank which produces policy on blogger-industry issues.
Norwegian Digital Travel Conference, Kristiansand, Norway, 24 – 25 Sept 2019
The event is Norway's largest travel conference with a sole focus on digital marketing and use of technology within the industry. It is organized by Usus (former Visit Southern Norway) and supported by Innovation Norway and NHO Reiseliv (The Norwegian Hospitality Organization).
Digital Travel Connect, San Diego, 2 – 4 October 2019
Digital Travel Connect is the one-stop shop for eCommerce, digital marketing and customer experience executives. The event aims to inspire travel brands – from all verticals, including airlines, hotels, OTA and meta-search, cruise lines, rental cares and disrupters —  to embrace and test transformative technology in order to master customer personalization and boost their omni-marketing strategy. Digital Travel Connect is an invite only forum which is strictly limited to senior level (VP and above) digital marketers in the travel industry.
Web in Travel, Singapore, 14 – 16 October 2019
WIT is a travel industry community & publisher focusing on travel technology, distribution and marketing. In addition to their main conference they have a number of spin-off events…
WIT Seoul, South Korea, 26 April 2019
WIT Europe, Amsterdam, 15-16 May 2019
WIT Japan and North Asia, Tokyo, 4 – 5 July 2019
WIT Hospitality, Hong Kong, 20 March 2018 

(2019 TBC)

WIT Middle East, Dubai, 9 April 2019
WIT Indie, Malaysia, 15 March 2019
Travel Mind: immaginiamo il futuro delle piccole destinazioni, Italy, 27-28 October 2017 (2019 TBC)
Popular and practical event. A Relationship Relationship Between Travel Agencies, Influencers, Social Media Managers and Tour Operators.
SATW Annual Convenvention, El Paso, TX.October 20-24, 2019 
Annual convention held by the Society of American Travel Writers.
World Travel Market, London, UK, 4 – 6 November 2019
The annual international travel trade show in London runs 2-3 social media and blogger streams, and a blogger/industry speed-networking event. WTM has some spin-off conferences…
WTM Latin America – Sau Paulo, Brazil. 2-4 April 2019
WTM Africa – Cape Town, South Africa. 10-12 April 2019
WTM Arabian Travel Market – Dubai. 28-01 May 2019
#DTTT Global 2018, Helsinki, 29 – 30 November 2018 (2019 TBC)
We're really excited to be taking #DTTTGlobal to Helsinki in 2018, a capital city that is going through an exciting transformation. With a focus on innovation, entrepreneurship and all things digital, Helsinki is the ideal host city to line up some amazing keynote speakers and talks from industry around the world sharing their insights in digital.
Join us for two exciting days of inspiration, innovation and networking and be part of the tourism industry's most important gathering of future thinkers. Make sure you save the dates on 29th & 30th November 2018.
Travel Social Media and Digital Marketing Conferences 2018 (Continued)
Travel Massive is an international community of tourism industry professionals and hosts events in over 100 cities around the world. They host over 400 events each year around the world, including New York City, London, Los Angeles, Berlin, Tokyo, and Sydney to name a few. Their online platform is free to join and you can find and connect with over 32,000 members and 2,300 tourism brands on travelmassive.com
Helpful links:
Travel Massive Events -> https://travelmassive.com/events
Travel Massive Chapters -> https://travelmassive.com/chapters
Find your nearest chapter on the map -> https://travelmassive.com/chapters/map
Learn how to start a Travel Massive chapter -> https://travelmassive.com/blog/start-a-chapter-guide/
2019 Midwest Travel Network Conference Modora, North Dakota 
A new event, to connect travel bloggers and influencers in the U.S. Midwest region with Midwest CVBs and DMOs.
Other Travel Social or Digital Marketing Conferences?
The list is meant to be as comprehensive as is possible. If you are running a social media conference or have attended digital marketing conferences aimed at the travel industry that you feel should be on this list, please contact us.
We intend to update this list on a regular basis, and therefore, welcome your feedback. Any edits, amends or additions please send them to michael@travelmedia.ie