At the end of May 2023, I had the pleasure of starting the Summer with a bang as I hosted a fabulous group of six media on a press trip to the captivating Costa Daurada. Hotel Cambrils was the ultimate beachside oasis that effortlessly blends laid-back vibes, luxurious comfort, and a dash of Mediterranean magic. With a jam-packed itinerary showcasing a variety of what the golden coast has to offer.
The Costa Daurada experience started off strong as we embraced exhilarating roller coasters and splashed down thrilling water slides, drying off in the Spanish sun as we went along. We then took a walk around Parc Sama, one of the most Instagrammable places visited to date, and received a wonderful tour of Cambrils where we enjoyed a delicious dinner in Acuamar accompanied by some sangria.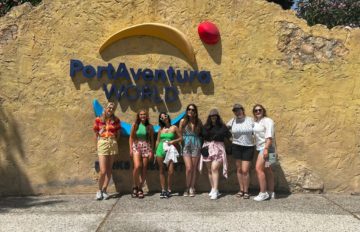 The following day we were welcomed onto a very relaxing catamaran cruise offered by Nautic Parc, followed by one of the most fantastic tasting lunches at Infinitum Resort in Restaurant Hills. After unwinding, it was time to visit the popular Salou where we walked the coastal path, capturing plenty of photographs along the way. Following yet another delicious dinner in Club Nautic de Salou, we ended our night with a Salou must-do magic show at House of Illusion and headed out to a local club to celebrate our last night.
No visit to Costa Daurada would be complete without a journey to the picturesque Tarragona and Reus. With plenty of steps achieved on the day, we saw so many beautiful ancient ruins and the stunning Casa Navas.
Overall, the memories we created, the stories we captured, and the flavors we savored will not only hold a place in our minds but will be featured across a variety of local publications and social media platforms very soon, so keep your eyes peeled if you want to find out more!
Watch my quick 40-second reel of this trip: https://www.instagram.com/p/CtJoRmyuo4i/