Strengths and successes of Irish travel technology companies
The IATA World Passenger Symposium, which recently took place in Hamburg, Germany, saw the hottest movers and shakers in travel technology coming together to share ideas and build relationships. The symposium showcased the massive strides Irish companies are making, with three of the four Innovation Award finalists originating here – LikeWhere, MTT and Indigo. Is there something in the water that means Irish travel technology companies are extra savvy and innovative? What exactly is it that makes us stand out from the crowd? To get to the bottom of this we decided to ask three people in the know…
Helpfulness and hospitality in technological field
First off, we chatted to Simon Dempsey, Founder of LikeWhere, a location recommendation app that allows travel brands and third party developers to quickly identify and recommend micro-areas based on geo-social meta data. So if you love grabbing a pint with friends on South William Street, Dublin it will recommend similar streets and venues in other cities you visit – pretty cool, eh? This feeds into the idea of living like a local and going beyond the tourist hotspots on your trip.
Simon attributes Irish travel technology successes to two things – our position as a start-up hub in Europe and the healthy travel tech community in place. Referencing OpenJaw, Datalex, MTT and Boxever, Simon noted the huge strides Irish tech companies are making, as well as the important position we hold as a global aviation centre. "Everyone is willing to help each other progress, which is brilliant," he said. Looks like our hospitality is not just a massive draw for tourists into Ireland- it's also helping us to achieve great things in travel tech. 
Emphasis on user independence
Next up, Kathrina Gallogly, Marketing Director of MTT, told us about their latest developments and what consumers can expect from their product, Concierge Live. With a strong focus on user autonomy, MTT Concierge Live completely revolutionises the travel experience from start to finish. Individuals can take control of everything from checking in and selecting baggage to enjoying the convenience of live flight and gate updates and walking directions to the nearest gate on their own device. If you're anything like us, the more you can take charge of your own travel experience the better, which is why this product is so fantastic!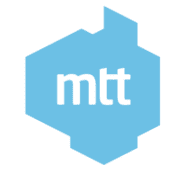 Like Simon, Kathrina highlighted Ireland's rich history of innovation in the aviation industry. Established airlines like Aer Lingus have understood the need for in-house technology experts since day one. "A lot of these successful Irish travel technology companies have in turn off-shooted other companies", resulting in a spread of knowledge and influence that has really put us on the travel tech map. This indicates more great things for Irish companies – we will continue to learn and prosper taking heed of those that have come before us.
Irish Travel Technology – Pushing boundaries and breaking barriers
Last up, Indigo's Founder, Kevin O'Shaughnessy, talked to us about what his company does and how important the IATA nomination was. "Indigo is the technology leader in an emerging space in travel technology for pre-booking taxi, train, shuttle buses in over 50 countries worldwide. That means that an airline can book you a taxi as part of your flight booking or an online travel agent can book a train journey for you," Kevin explained. He deemed the IATA nomination a gift, allowing Indigo to showcase their developments on an international level.
Likening Dublin to the 'Silicon Valley of travel', Kevin is extremely proud of the achievements Indigo and other companies in the Irish travel technology space are making – "There's just so much travel tech that happens in Ireland and some really cool stuff at the grassroots level, stuff that's happening in all different aspects of technology for travel, whether it's financial or reservations systems or related to airlines." Being able to stay ahead of trends, and indeed invent them, is what makes companies like Indigo so special.
What does this mean?
So it's apparent that Ireland is a pretty awesome place when it comes to travel tech. Recent advancements in companies like LikeWhere, MTT and Indigo enable travellers to enjoy a more autonomous, seamless journey. Gone are the days when you have to rely on airport personnel for flight information and updates – even on-ground transportation and destination guides are accessible through your smart phone. If 2015 is anything to go by, it doesn't look like Irish travel tech companies are slowing down any time soon. Exciting times ahead! 
What do you think of the Irish travel technology landscape? Are there any companies in particular that have impressed you this year? Tweet us @TravelMedia_ie and let us know what you think.