[su_heading style="default" size="13″ align="center" margin="20″]To blog or not to blog? This is a question that many writers and companies have battled with in recent years. While the term 'blog' was coined in the late 1990s, it wasn't until 2001 that popular blogs started to emerge and blogging became a new phenomenon. So why, 13 years later, do some people still have reservations about sharing their thoughts and advice with an online community?[/su_heading]
Here at TravelMedia.ie we love blogging. Why? Because we have seen, and are seeing, positive results from it. Blogging can produce different results for different people – such as winning new business, increasing your social media presence and social media following, improving your search rankings and, most importantly, driving traffic to your website.
[su_quote style="default" cite="Brian Clark"]Don't focus on having a great blog. Focus on producing a blog that's great for your readers[/su_quote]
From studying the analytics of our site, www.travelmedia.ie, we can see that over the last few months our site traffic has improved dramatically. And the number one source for driving this traffic? Our blog.
[su_quote style="default" cite="Aaron Wall"]Doing well with blogging is not about writing one key post, it is about performing day after day and helping a few people at a time[/su_quote]
Take a look at the screenshot below which shows our Google Analytics for the period 6th June 2014 – 6th July 2014. Out of the top 10 pages that were visited during this period, six of these were pages on our blog. The top 10 page visits below equated to 1792 page views – of which 751 were blog page views.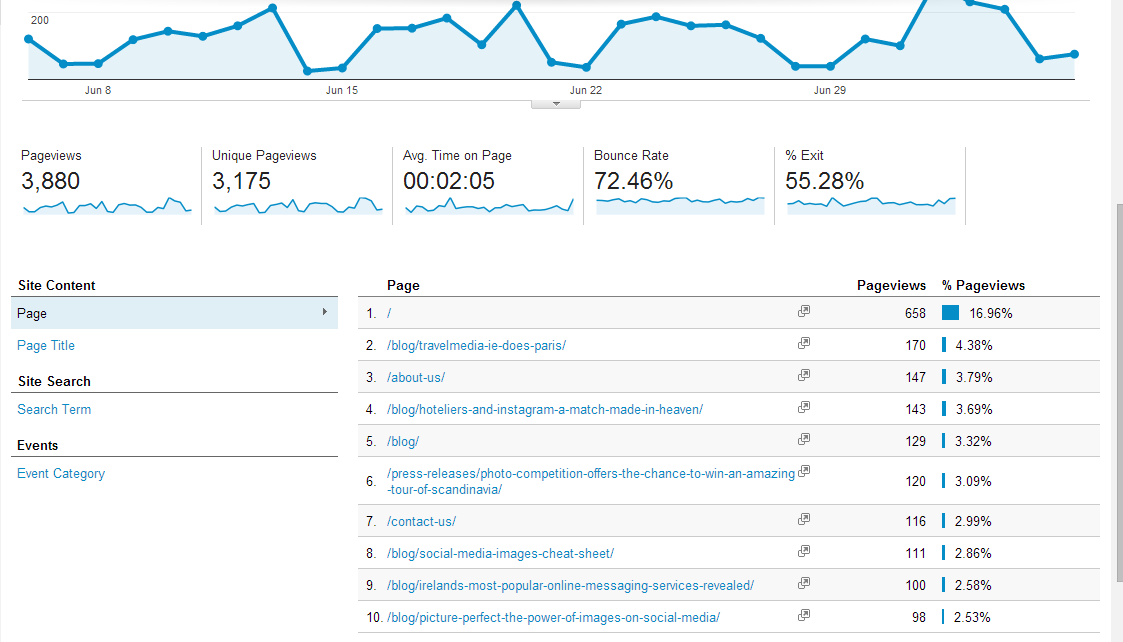 In fact, of the top 25 pages viewed on our site during this period, nine of these were blog pages. The proof is in the pudding. Blogging is working for us. As well as seeing an increase in site traffic, we have also seen a major increase in our follower numbers on Twitter. Why? Because we are distributing quality content in the form of our blog posts. The better your content, the better your results will be – on both social media and on your website.
Have you yet to see results from your blog? Or are you thinking about setting up a blog? Contact us and a member of the TravelMedia.ie team would be happy to speak with you.