As 2022 drew to a close, there was still plenty to do for the team at TravelMedia.ie. Below are some of the highlights from the last month of the year.
Michael speaks at Aer Lingus Global Sales Conference
On Tuesday, December 6th, Michael spoke at the Aer Lingus Global Sales Conference in the Grand Hotel, Malahide. The day marked the return of the conference after a two-year hiatus due to the COVID-19 pandemic. Michael was speaking on behalf of Bradley International Airport.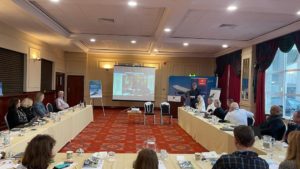 Run Barbados 2022
The weekend of December 10th and 11th brought with it the annual Run Barbados marathon weekend. There were many events across the weekend including hikes, walks, 5k, 7k and 10k runs as well as a half-marathon and, of course, the main event, the Run Barbados 2022 Marathon. Alex Ekesa of Kenya took home first place with a time of 2:34:05. Ireland were represented in the top 5 by Mateusz Janiszewski, who finished with a time of 3:15:23.1.
Marble City's own Tom Britton also competed in the main event on Sunday. Despite picking up an injury mid-race, Tom battled through and finished with a more than respectable time of 5:16:50.5. Congratulations to Tom, who has already stated his intent to return to the island for the event in 2023.
TravelMedia.ie and BTMI were happy to help facilitate a trip over for Paul Freary (Athletics Weekly) and Ian O'Riordan (The Irish Times) who both thoroughly enjoyed their experience on the island and wrote glowing reviews of their time in Barbados. You can find both pieces below along with a number of photos from the weekend.
Paul's review: http://bit.ly/3ZAp97g
Ian's review: http://bit.ly/3Qz4EUF
TravelMedia.ie's Christmas Party
After a long and busy year, the TravelMedia.ie team blew off some steam and enjoyed a delectable meal in the famous Shelbourne Hotel on Stephen's Green. There was 14 of us there on the day and Konstantin even flew in from Portugal specifically for the dinner. Many stories and laughs were shared across the three-course meal in Dublin's premiere hotel. We then headed on to Grogan's pub on South William St. for more festivities, capping off what was a fantastic evening of team bonding.
Paula returns home for the holidays
Christmas gave our own Paula an opportunity to return home to her native Madrid. Paula spent the two weeks reconnecting with friends and family and relaxing over the festive period. And, perhaps most important of all, she got to see her beautiful dogs Rasta and Mateo.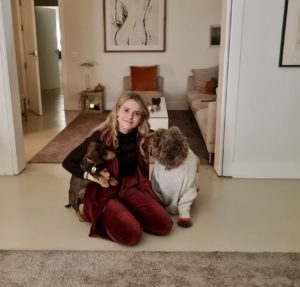 December was a great month with lots of memories both professionally and personally. The break has given us all a chance to recharge our batteries and we are all looking forward to seeing what 2023 will bring our way!