The month of April was very busy as always. With the easing of travel restrictions worldwide and almost all COVID-19 restrictions here in Ireland, the industry is finally starting to go back to normal. From new projects to prepping some fantastic upcoming events, read on to find out everything we got up to this month…
Events Preparations – Costa Blanca Trade Event and Greek Media & Trade Dinner
This month the TravelMedia.ie/TTR team has been focusing on organising upcoming events in May. From working closely with clients and running advertising campaigns to graphic design and visiting venues and members of the trade, preparations were in full swing.
Check out the TravelMedia.ie events calendar for our upcoming events, including the Costa Blanca Trade Event on May 11th on behalf of APHA and another on behalf of the Greek Tourist Board on May 19th. Best of luck to Raluca Andronic and Ali Finnegan who will be taking lead on May's upcoming events, and to the whole team for all of the help and support provided throughout.
Annette enjoyed some time away in New Orleans
TTR's Annette McCann enjoyed a week away in the stunning New Orleans, USA as part of her downtime and got to sample some southern charm during the last week of the month. Annette experienced world-famous Beignets on Bourbon street, paddle boat cruising down the Mississippi and taking part in a ghost and Voodoo tour around the French Quarter. Not only that, but The New Orleans festival was taking place during Annette's stay allowing her to also enjoy talented live jazz musicians who kept both locals and tourists entertained.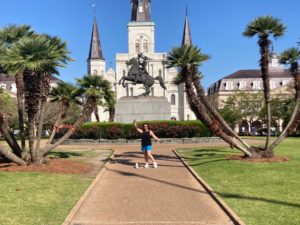 TravMedia Awards at The Londoner – Social Media Management by TravelMedia.ie
Michael Collins, Ali Finnegan, Raluca Andronic, Ciara Dunne and Leslie Graham of TravelMedia.ie travelled to London, managing all social media platforms at the TravMedia Awards which took place at The Londoner hotel. While Raluca focused on live-tweeting on Twitter and community moderation, Ali and Ciara focused on content creation, capturing photographs and videos for Instagram and Facebook with the inclusion of Reels and Stories. Additionally, Michael and Leslie were kept extremely busy filming the awards ceremony throughout the night.
The team not only achieved excellent results across all social platforms with a total reach of 1.2M users but also had the event hashtag #TravMediaAwards trending on Twitter throughout the night.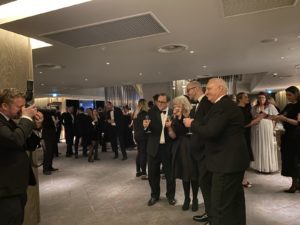 BTMI Brainstorming in London
TravelMedia.ie's Michael Collins, Ali Finnegan and Ciara Dunne attended the BTMI brainstorming session in London on the 12th of April. This is the first time the team met in one place since before the COVID-19 restrictions. A successful day was had, full of productivity and planning for the year ahead while also practising some team bonding.

BTMI Hotel Representatives Meeting, London
TravelMedia.ie's Michael Collins, Ali Finnegan and Ciara Dunneattended the BTMI hotel representatives meeting in London on the 13th of April and discussed the current situation in the market alongside future plans for the remainder of the year. All presentations and discussions provided everyone with a great insight into the trade industry. It was a great day full of nothing but positive feedback on the industry and relationship building with partners. The meeting concluded very positively with all teams and representatives agreeing that the travel industry is truly picking back up.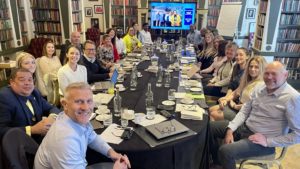 Irish Media Press Trip to Nantes
Ali Finnegan and Ciara Dunne of TravelMedia.ie travelled to Nantes alongside Irish media on behalf of Le Voyage à Nantes Nantes. The group enjoyed a fantastic four days in Nantes where they experienced the city's unique art installations, historical sites, and cultural hotspots.
The Irish media had the pleasure of witnessing magnificent art features along the green line walking tour and the majesty of The Machines de L'Ile, and of course, getting soaked by The Grand Éléphant! To top it all off, everyone got a taste of some home-grown Muscadet at the Jérémie Huchet cellar in Chateau-Thébaud.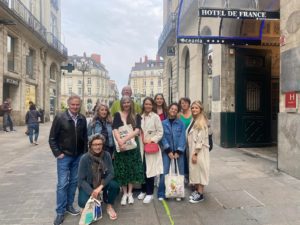 TBEX North America, Tri-Cities Washington
Michael Collins of TravelMedia.ie attended TBEX North America Spring 2022, Tri-Cities Washington and had a fantastic time reconnecting with old industry connections and creating new ones throughout the conference.
TBEX conferences provide great insight and actionable tips from more than 40 of the world's top pros who specialize in destination marketing via content, Social Media, video and influencer marketing.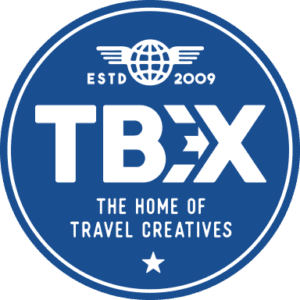 UNWTO Sustainable Tourism Event, Mallorca
Michael Collins of TravelMedia.ie travelled to the UNWTO Sustainable Tourism event in Mallorca where he moderated the fantastic and insightful session of 'The Way Forward: How destinations can lead the transformation'. 
This session contributed to consolidating those points that have been discussed at the event and to the generation of new synergies for social, economic and environmentally responsible tourism.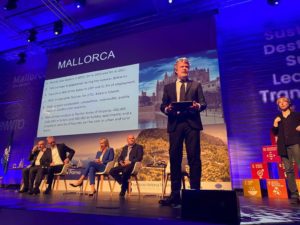 Back working with Group Promotions/Couples Resorts
The team at TravelMedia.ie is delighted to be back working with Group Promotions/Couples Resorts on all things social media, advertising, content marketing, community moderation, SEO, PPC and much more. With new team members on both ends, it has been great to create new connections and build new and updated strategies together that have already been put in place.

Hotel Honucai
Michael Collins and Leslie Graham of TravelMedia.ie had the pleasure of experiencing the brand new boutique Hotel Honucai in Colonia de Sant Jordi, Mallorca, Spain. Hotel Honucai is part of the Gallery Hotels Spain collection. Michael and Leslie interviewed Elena Oliver, Hotel Manager at Hotel Honucai, one of Mallorca's top hotels.
It is a huge pleasure to welcome Hotel Honucai on board as a new client of TravelMedia.ie. Find out more about Hotel Honucai by watching Elena's interview below.
Join us next month to learn more about what the team at TravelMedia.ie got up to during the month of May!