Airbnb discuss current trends and future plans at Phocuswright Europe…
Phocuswright Europe brought many relevant people to centre stage, but none more relevant than Olivier Gremillion, Managing Director EMEA for Airbnb. The driving force behind non-hotel accommodation, Airbnb now has over 2 million listings globally and more than 50% of these are in Europe.
In addition to this, over 50% of Airbnb bookings are for listings in Europe, which shows just how important this part of the world is for them.
Recently Airbnb launched a new advert – what it calls 'the act 2 of Airbnb' – and hopes that it will show how Airbnb has developed from just an accommodation provider to a much bigger part of the trip experience for travellers. They hope that it will also show that the reason why most guests use Airbnb is to 'live like a local' wherever they are.
Why do people use Airbnb?
In contrast to this, recent Phocuswright research has shown that one of the drivers for travellers using Airbnb is in fact price and location. The chart below shows the results of the recent Phocuswright research asking why people use Airbnb: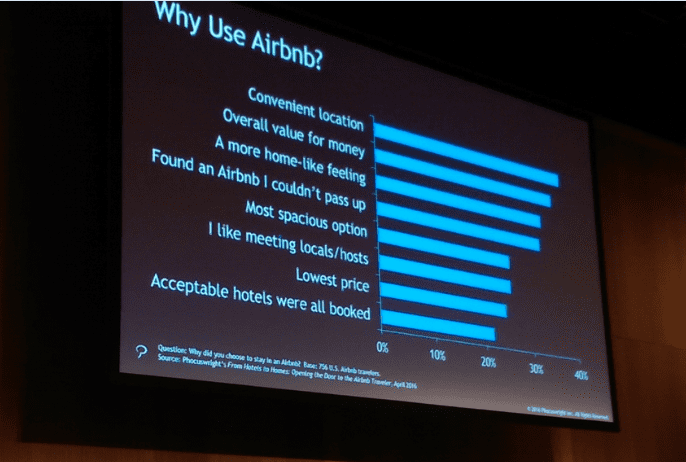 So that's why people choose Airbnb. But why do people opt not to stay at an Airbnb property? Surprisingly, safety is not at the top of the list. According to Olivier, some travellers still want the hotel experience. People like to have 24/7 check-in, room service, spa treatments etc.
Given this reasoning, will Airbnb allow hotels to list on Airbnb in the future? Olivier says this is not something that is on their agenda.
Interestingly though, Airbnb are hoping to acquire some holiday home inventory i.e. multiple unit buildings. Will this make Airbnb an even bigger threat to traditional accommodation options? Only time will tell.
What do you think? Have you used Airbnb? Tweet us @TravelMedia_ie and let us know!