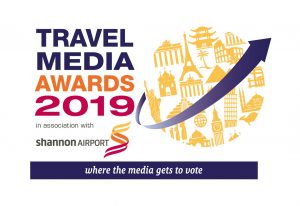 Press release: May 30th 2019
The 2019 Travel Media Awards, in association with Shannon Airport, took place today at the 5* Shelbourne Hotel, Dublin.
Shannon Airport returned for a third year as the headline sponsor of the awards, which today welcomed 200 guests to the Shelbourne Hotel in Dublin. Category sponsors on the day were Las Vegas CVA, TAP Portugal, Visit Portugal, Normandy Tourism, United Airlines, Shannon Airport and The Travel Corporation Ireland. Guests were also treated to a drinks receptions, sponsored by Accident & General.
Now in their ninth year, the Travel Media Awards are a highlight of the Irish travel industry calendar, for both media and trade. Alex Gibson and Ed Finn took to the stage for the first time to host the big day and as always, there were plenty of surprises and giveaways.
The Travel Media Awards are the only awards that call on members of the media to vote for their favourite travel companies and fellow media. This year's awards featured some exciting new categories including Best Long Haul Business Class, Best New Irish Hotel and Best Irish Travel Editor.
Declan Power, Head of Aviation Development, Shannon Airport, said, "We were very excited to return as headline sponsors for the 2019 Travel Media Awards following the success of the past two years. It's safe to say this year was bigger and better than ever! 2019 has been phenomenal for Shannon Airport so far and we're looking forward to continuing to grow greatly throughout 2019."
Commenting on the awards, Michael Collins, MD and Founder of TravelMedia.ie, said, "Thank you so much to everyone who made the 2019 Travel Media Awards such a fun-filled day. I would also like to give a special thanks to our headline sponsor: Shannon Airport and a well-deserved congratulations to each and every one of our winners, in particular Jean Maxwell (ITAA), Lorraine Dunne (ITAA) and Cormac O'Connell (Dublin Airport)."
Find the full winners list below:
Best Short Haul Airline Europe Winner – Aer Lingus
Best Long Haul Airline Flying West Winner – Aer Lingus
Best Long Haul Airline Flying East Winner – Emirates
Best Long Haul Business Class – Emirates
Best Luxury Hotel Group – Hastings Hotels
Best Budget Hotel Group Winner – Clayton Hotels
Best new Irish Hotel – The Devlin Dublin
Pleasure to Work with in 2019 award – Jean Maxwell and Lorraine Dunne, ITAA
Best Cruise Company Winner – Royal Caribbean International
Best Ferry Company Winner – Stena Line
Best Canal or River Cruise Company Winner – Uniworld Boutique River Cruises
Best Car Hire Company Winner – Hertz Ireland
Best Tour Operator Winner – Sunway Holidays
Best Local Travel Agency Winner – Cassidy Travel
Best Ski Operator Winner – Crystal Ski
Best Travel Insurance Provider Winner – Blue Insurance
Best City or Short Break Destination Winner – Lisbon
Best Destination Representative Winner – Tryphavana Cross
Best Theme Park (Worldwide) Winner – Universal Orlando Resort
Best Tourist Board or CVB Winner – Tourism NI
Best Use of Social Media by a Travel Company Operating in the Irish Market Winner – Tour America
Best Irish Travel Writer (print only) Winner – Pól Ó Conghaile
Best Irish Travel Blogger Winner – Tom Sweeney, Tom Sweeney's Travels
Best Irish Travel Editor Winner – Jim Murty
Lifetime Achievement Award sponsored by Shannon Airport – Cormac O'Connell, Dublin Airport
For high res photos of any of the winners, please email dani@travelmedia.ie
Parts of the event were also streamed live on the TravelMedia.ie Facebook page, you can watch them back here.
To catch up on all the action on the day check out our Twitter feed and the main event hashtag #TMawards19.
All voting was independently audited and managed by TUD.
TravelMedia.ie
Michael Collins
Phone: 086 8583585
Email: michael@travelmedia.ie
Niamh Waters
Phone: 086 0492394
Email: niamh@travelmedia.ie