Bridgetown, Barbados
Barbados became Aer Lingus' first Caribbean destination today, 20th of October, as the airline's inaugural non-stop service from Manchester to Bridgetown departed this morning.
The landmark EI31 service departed at 10.15 am heralds a new era for both Barbados and Aer Lingus. For those dreaming of holidaying on the idyllic island, renowned for the pristine beauty of its landscape and boundless charm of its people, this new direct route from Manchester (IATA: MAN) to Bridgetown (IATA: BGI, Grantley Adams International Airport) allows even more connectivity for UK and Irish visitors.
This morning's inaugural flight marks the launch of Aer Lingus' first Caribbean route from the UK. Flights will operate twice weekly until the beginning of November 2021, when they will then increase to three times per week.
Commenting on the inaugural flight, Barbados Minister of Tourism and International Transport, Senator the Hon. Lisa Cummins, said, "Today, Barbados is celebrating the arrival of Aer Lingus' first Caribbean flight from Manchester to Bridgetown. Manchester Airport is one of the busiest airports in the UK and is easily accessible from across Northern England and Scotland, by road, air, and rail. Later this evening, we will be at the GAIA to receive the flight as she arrives with the first visitors!

Barbados has a long, shared history with Ireland, one which is of great significance and importance to the many Barbadians of Irish heritage. Aer Lingus' new route from Manchester to Bridgetown allows us to further grow the relationship between our two countries. With connectivity from both Dublin, Belfast, and Cork, it is now easier than ever for Irish visitors to discover our beautiful island."
To launch celebrations in true Bajan style, customers checking in for their flights to Barbados this morning, were treated to a live performance from steel pan band, Band One. The band offered a summery respite from the autumn chill outside, and just a taster of the warm welcome visitors to Barbados can expect when they get there.
Commenting on the new route to Barbados, Cheryl Carter, Director of UK and Ireland for Visit Barbados, said "Barbados is delighted to welcome the inaugural flight on Aer Lingus' Manchester to Bridgetown service. This new service, from one of the busiest airports in the UK, will offer even more connectivity options for UK holidaymakers, business travelers and residents. We look forward to welcoming these passengers to the island."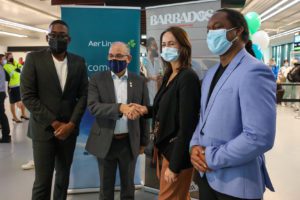 Lennon Chandler, Business Development Officer, Milton Inniss, High Commissioner for Barbados to the United Kingdom, Jenny Rafter, Head of Leisure Sales Aer Lingus & Marc Mccollin, Senior Business Development Officer. (Image: Fionn Davenport, ITTN)
The new direct route from Manchester will operate on an Airbus A330-300 series, with both economy (287 seats) and business class (30 seats) fares.
Manchester Airport is the UK's third-largest airport, and the largest outside London, serving more than 22 million people within a two-hour drive and handling more than 27 million passengers per year.
Fare information
Fly from Dublin via Manchester to Bridgetown from €598 economy return and from €2,500 business one-way.
Fly from Cork via Manchester to Bridgetown from €618 economy return and from €2,600 business one-way.
Fly from Manchester to Bridgetown from £199 economy one-way and from £1,175 business one-way.
Fly from Belfast via Manchester to Bridgetown from £608 economy return and from £2,350 business one-way.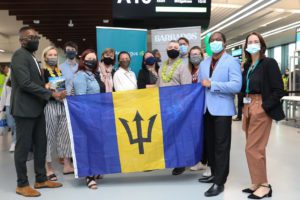 Barbados Tourism BTMI hosting press on inaugural flight which marks the launch of Aer Lingus' first Caribbean route from the UK. (Image: Fionn Davenport, ITTN)
IMAGES: https://www.dropbox.com/sh/ff929l55io1xsp9/AAAOuvSSxtUaMjqjfH_4de1Ta?dl=0
There is now no excuse to postpone paradise any longer, Barbados is waiting for you with the warmest of welcomes! Book your flight today at www.aerlingus.com or with your local travel agent.
ENDS
About Barbados
The island of Barbados offers a unique Caribbean experience steeped in rich history and colourful culture and rooted in remarkable landscapes. Barbados is the home of two of the three remaining Jacobean Mansions left in the Western hemisphere, as well as fully functional rum distilleries. In fact, this island is known as the birthplace of rum, commercially producing and bottling the spirit since the 1700s. Each year, Barbados hosts several world-class events including the annual Barbados Food and Rum Festival; the annual Barbados Reggae Festival; and the annual Crop Over Festival, where celebrities such as Lewis Hamilton and its very own Rihanna are often spotted.
Accommodations are wide and varied, ranging from picturesque plantation houses and villas to quaint bed and breakfast gems; prestigious international chains; and award-winning five-diamond resorts. In 2018, Barbados' accommodation sector captured 13 awards in the Top Hotels Overall, Luxury, All-Inclusive, Small, Best Service, Bargain, and Romance categories of the 'Traveler's Choice Awards'.
Getting to paradise is a breeze: the Grantley Adams International Airport offers plenty of non-stop and direct services from a growing number of U.S., U.K., Canadian, Caribbean, European, and Latin American gateways, making Barbados the true gateway to the Eastern Caribbean. Visit Barbados and experience why for two years in a row it won the prestigious Star Winter Sun Destination Award at the 'Travel Bulletin Star Awards' in 2017 and 2018.