Boasting beautiful weather, white sand beaches, incredible scenery and a laid-back, relaxing atmosphere, Barbados is world renowned for being one of the most romantic destinations.
Planning your big day? Why not walk down the aisle to the relaxing sounds of the ocean in a sunset beachside ceremony or enjoy a tropical garden wedding in a sea of colourful blossoms at one of our many botanical gardens? Or for something truly unforgettable; imagine exchanging nuptials in the Atlantis Submarine 150 feet underwater!
Known as the Culinary Capital of the Caribbean, your Barbados destination wedding will be one to remember with an incredible range of culinary choices, from fine dining venues to casual street-style caterers.
Everything you need for your dream wedding is in Barbados. Need more convincing? Read on to find out why there's no better place to say 'I do' than Barbados.
Wedding Venues
Whether you're planning a small, intimate minimalist ceremony or a lavish fairy-tale event with all of your family and friends, choosing the right venue is an essential part of making your wedding day everything you dreamed of, and there is no shortage of romantic wedding venues in Barbados.
Why not tie the knot at one of Barbados' historical sites, such as Clifton Hall Great House or St. Nicholas Abbey, one of two Jacobean mansions left in the Western Hemisphere and home to St. Nicholas Abbey Rum Distillery. Fancy something different? Celebrate your nuptials on board a private catamaran skimming along the crystal-clear Caribbean water, whether you choose a morning, afternoon, or sunset wedding, you are sure to make memories to last a lifetime on the calm seas of Barbados.
Some of Barbados' top hotels and resorts offer incredible wedding packages to cater for your dream Caribbean wedding. Located on a stunning white sand beach on the bustling South Coast, The Sands Barbados is one of the most sought-after beachfront wedding venues. Over on the West Coast, consider one of Barbados' all-inclusive wellness boutique properties, Waves Hotel & Spa by Elegant Hotels as an idyllic choice to celebrate your special day, offering the choice of an intimate garden setting or a luxurious wedding right on the beach.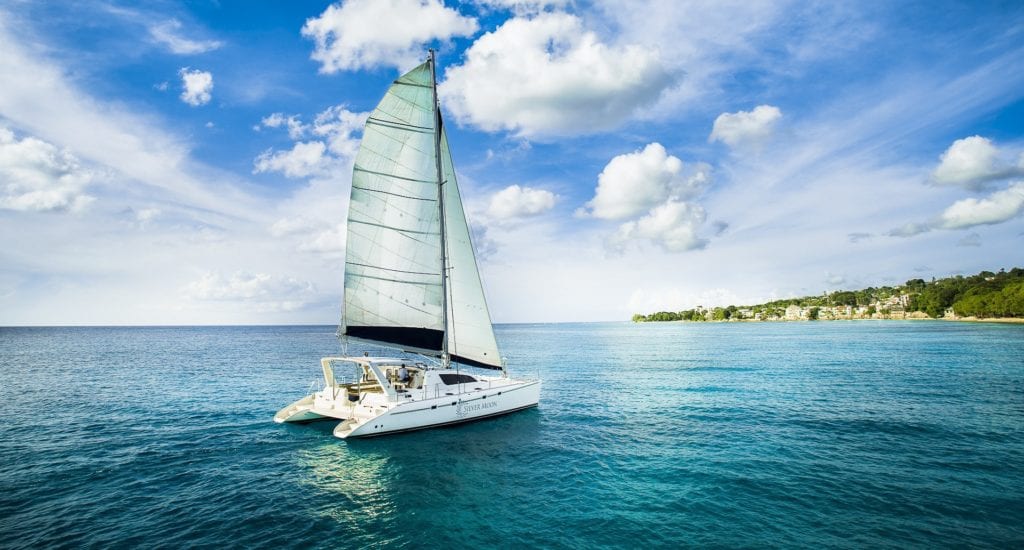 Wedding Planning
Planning a destination wedding takes a lot of time, work, and patience. Hiring a wedding planner can provide invaluable support for your Barbados wedding and allow you and your other half to focus on all the fun and relaxing that will be happening on your trip.
Wedding planners have a wealth of knowledge that will help you create the beautiful and memorable wedding that you've dreamed of. Based on your ideas, your wedding planner will do research, provide contacts and recommendations, offer guidance throughout the whole wedding planning process, finalise all wedding plans, manage guest liaison and much more.
Some of the most popular wedding planners in Barbados include Island Bliss Weddings, Tropical Weddings Barbados, Barbados Weddings and Shalana Waterman Designs.
Wedding Legalities
Getting married in Barbados is so easy, it can happen the same day you arrive. But when tying the knot abroad, it's important to be up to date with the destination's marriage requirements. In Barbados, both bride and groom must apply for a marriage license at the Ministry of Home Affairs, both a birth certificate and passport are required. If either party was previously married and widowed, a certified copy of the Marriage Certificate and Death Certificate in respect of the deceased spouse is also required. Should either party be divorced, an original Decree Absolute is required
If you choose a Roman Catholic ceremony, relevant documents must be sent by your bishop to the bishop of Bridgetown.
Arrangements for your special day should be made with either a Magistrate or Marriage Officer to perform the wedding ceremony, prior to applying for the marriage licence. A letter from either the Magistrate or Marriage Officer must be presented at the time of making the application.
Your wedding planner will be happy to assist with this and can help you ensure you have all the information you need to ensure that your marriage will be legal and binding.
For more information on tying the knot in Barbados please visit www.loveinbarbados.com
IMAGES: https://www.dropbox.com/sh/ioipn6n3ve5vrss/AAC8mZsn6Tr7oe0BWaRQvsEra?dl=0
ENDS
For more information on Barbados please contact Niamh Waters niamh@travelmedia.ie