What's New in Barbados 2021 – 2022
As travel resumes, Barbados is now busier than ever. Boasting a range of new tourist attractions, accommodation options, flight routes, and more, there is now no excuse to postpone paradise any longer, Barbados is waiting for you with the warmest of welcomes!
Need more convincing? In this booklet, we've compiled all the latest news from around our island to show you exactly what's waiting for you beautiful Barbados.
1.     Barbados Removes Mandatory Second Test for Fully Vaccinated Travellers
Effective Sunday October 24, 2021, fully vaccinated travellers with a valid negative COVID-19 PCR test result will no longer be required to take a second COVID-19 PCR test on arrival in Barbados or observe a quarantine period.
Health officials at the Grantley Adams International Airport may select fully vaccinated travellers with a valid negative COVID-19 PCR test result at random for a Rapid Antigen arrival test on entry. In this case, these travellers must:
Take the Rapid Antigen arrival test as directed at the airport free of charge;
Await the results of the Rapid Antigen Test (no quarantine required due to short turnaround time for results);
Depart the airport using approved transportation only.
Unvaccinated travellers, as defined in the Barbados Travel Protocols, will continue to adhere to the following protocols:
Show proof of a negative Standard COVID-19 PCR test taken no more than 3 days prior to arrival in Barbados, as outlined in the Barbados Travel Protocols;
Depart the airport using approved transportation only;
Quarantine for a period of 5 days at a pre-approved accommodation;
After day 5 of quarantine, take a mandatory second COVID-19 PCR test at one of the approved labs or testing hotels across the island at a cost to the traveller;
Continue to quarantine until the results of the second COVID-19 PCR test are received.
For more information on Barbados' travel protocols, visit www.barbadostravelprotocols.com.
2.     Barbados Tourism Marketing Inc. Appoint New Chief Executive Officer
After an intensive global search, the Board of Directors of the Barbados Tourism Marketing Inc. is pleased to confirm the appointment of Mr. Jens Thraenhart, as Chief Executive Officer of the island's destination marketing agency, effective November 1st, 2021.
Mr. Thraenhart, a tourism veteran of 26 years, emerged as the top candidate from an initial pool of 178 candidates of qualified professionals from around the world. The list included 20 applications from Barbados and 27 from the wider Caribbean region. The search and selection process were undertaken by Profiles Caribbean Inc. and a sub-committee of the Board and industry professionals. The agency also conducted proactive outreach to regional and international industry partners of the BTMI.
This announcement will usher in a new era for the organization, one that will see the BTMI transition to a more commercial marketing enterprise which is reshaping its operations to better compete in the new pandemic era of global tourism.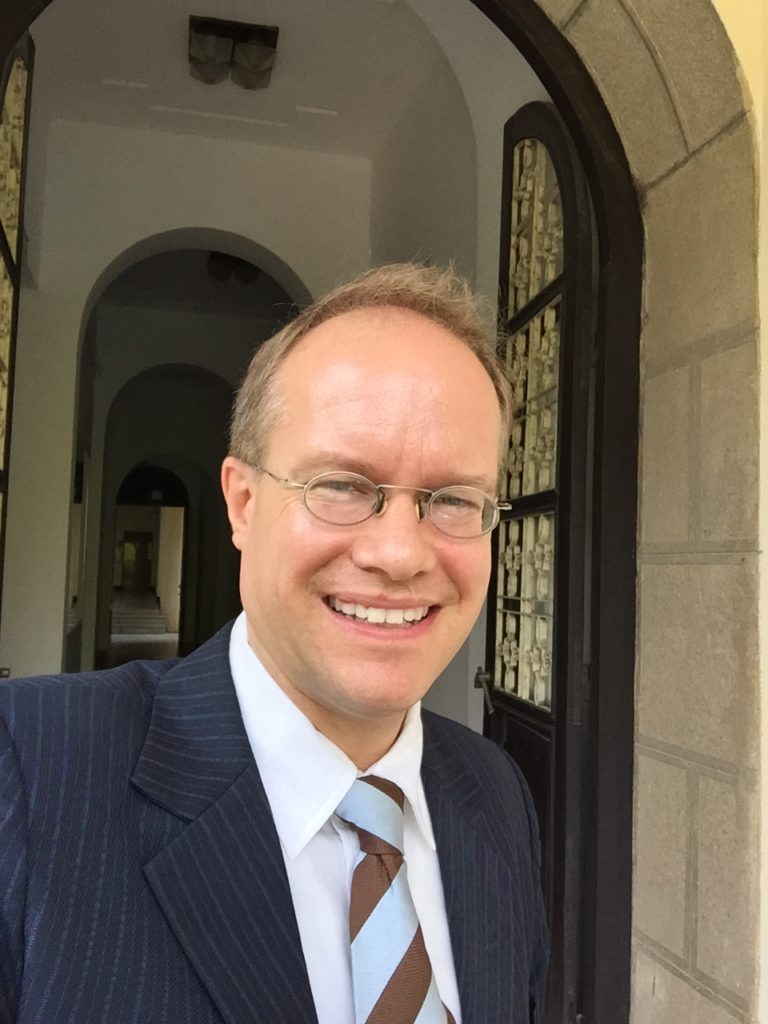 Jens Thraenhart, Chief Executive Officer, Barbados Tourism Marketing Inc.
Thraenhart, is a German Canadian tourism practitioner, versed in global tourism strategy and execution, and leadership experience from North America to Asia, having worked for the Canadian Tourism Commission (now Destination Canada) and Fairmont Hotels & Resorts (now part of Accor), and most recently as Executive Director of the Mekong Tourism Coordinating Office, appointed by the six member governments in Southeast Asia for four consecutive 2-year terms.
3.     Travel to Barbados with Aer Lingus
On the 20th of October, Barbados became Aer Lingus' first Caribbean destination as the airline's inaugural non-stop service from Manchester to Bridgetown departed.
The landmark EI31 service heralds a new era for both Barbados and Aer Lingus. For those dreaming of holidaying on the idyllic island, renowned for the pristine beauty of its landscape and boundless charm of its people, this new direct route from Manchester (IATA: MAN) to Bridgetown (IATA: BGI, Grantley Adams International Airport) allows even more connectivity for UK and Irish visitors.
The inaugural flight marked the launch of Aer Lingus' first Caribbean route from the UK. Flights will operate twice weekly until the beginning of November 2021, when they will then increase to three times per week.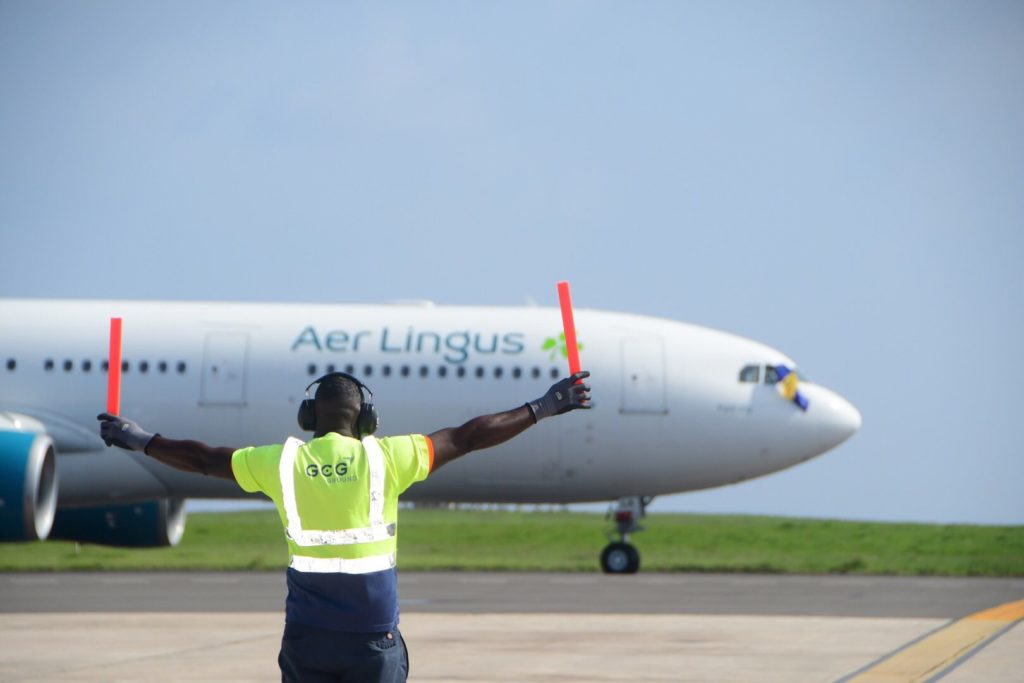 Aer Lingus inaugural flight EI30 arriving at Grantley Adams International Airport from Manchester International Airport on 20th of October 2021
Barbados Welcomes New Direct Virgin Atlantic Route from Edinburgh
On December 8th, 2021, Barbados is set to become Scotland's only direct route to the Caribbean, as Virgin Atlantic launch their new direct route from Edinburgh (IATA: EDI) to Bridgetown (IATA: BGI, Grantley Adams International Airport), Barbados.
Virgin Atlantic's new flight connecting Scotland to Barbados will commence on the 8th of December 2021, operating twice weekly, Wednesday and Sunday, on an Airbus A330.  Customers can choose to fly in one of three cabins, including Upper Class or Premium. Fares will start from as little as £419 per person.
Senator the Hon. Lisa Cummins, Minister of Tourism and International Transport for Barbados, welcomed the announcement by saying, "The fact that this new route is Scotland's only direct flight to the Caribbean is something that fills everyone in Barbados with great pride. This will also be the first time that Virgin Atlantic has flown international flights from Edinburgh, so it really is a very important moment in history for both Scotland and Barbados. We look forward to showing Scottish travellers that Barbados is a safe destination, which is ready and waiting for them to enjoy."
5.     Strong Start for New KLM Service from Amsterdam to Barbados
A new European gateway is already showing promise for Barbados as the Grantley Adams International Airport (BGI) prepares to receive a new direct service from Amsterdam Airport Schiphol (AMS) via KLM Royal Dutch Airlines.
Months after the new service was announced, the first flight, scheduled for October 16, 2021 is already sold out. In addition to the exceptional response, it will be a historic moment for the country as KLM Royal Dutch Airlines was the first commercial airline to arrive at Seawell Airport in Barbados on October 19, 1938. Now, 83 years later, it is making history again with a sold-out flight from Amsterdam to Barbados.
Flights will operate non-stop from Amsterdam to Barbados, three days a week Monday, Thursday, and Saturday on KLM's modern, efficient fleet of Airbus A330-200 with 264 seats in three classes including business. Departing Amsterdam at 12:25 p.m. CET and arriving at BGI 4:45 p.m. AST, the service will run until March 31st, 2022.
6.     British Airways Increase Christmas Capacity to Barbados from London Heathrow
Barbados has welcomed British Airways' announcement of the addition of a second flight from London Heathrow to Bridgetown, Barbados, this winter to accommodate for peak season over Christmas and New Year's.
This new flight, operating in December 2021 and January 2022, will add 3,000 seats to British Airways' service from London to Bridgetown, which currently comprises two services – one from London Gatwick and the other from London Heathrow.
The additional British Airways flight from London (LHR) to Barbados (BGI) will run on the following dates
December: 11th, 12th, 18th, 19th, 26th, and 27th
January: 2nd, 3rd, 8th, and 9th
The Barbados (BGI) route will see an aircraft upgrade to Boeing 777-300, giving Business Class passengers the opportunity to experience the recently introduced Club Suite.
7.     Barbados to Host the England T20 International (T20I) and Test Tours of the West Indies 2022
Last month, it was announced that England will arrive in the Caribbean to play the first ever five-match T20I Series between the West Indies and England cricket teams. All five matches in Barbados will be played across a nine-day period from January 22 to 30, 2022, including two consecutive weekends of back-to-back T20I cricket. The England Men's Series in the Caribbean forms a focal point for one of the West Indies Men's busiest ever years of International Home Series cricket.
Following West Indies' white-ball tour of India in February 2022, the West Indies will welcome England back to the region for a three-match Test Series to compete for the newly created Botham-Richards Trophy.  This new trophy honours two legends of cricket, Lord Ian Botham and Sir Vivian Richards, whose friendship and on-field heroics became synonymous with some of their respective teams greatest Test match moments.
The much-anticipated Test Series will start at the Sir Vivian Richards Cricket Ground (SVRCG) in Antigua on March 8, 2022, before moving to the Kensington Oval, Barbados for the 2nd Test starting on March 16th. The 3rd Test match will bowl off on March 24 on the "Spice Isle" of Grenada at the National Cricket Stadium. The Test Series is a key fixture in both teams' International Cricket Council (ICC) World Test Championship schedule which will determine the best Test Match Cricket Team in the world by 2023.
8.     Barbados Sailing Week
The 2022 Edition of the Barbados Sailing Week (BSW2022) event is proposed for January 18-22, 2022.  The event managed and executed by the Barbados Cruising Club (BCC), is the oldest sailing regatta event in the region dating back to 1936 when five (5) trading schooners raced around Barbados for the 'bragging right' of being the fastest boat in the area at the time.
The event is traditionally centered around January 21st, the birthday of Barbados' first Prime Minister, the Honorable Errol Walton Barrow who was also the co-founder of the BCC. The event will consist of the Mount Gay Round Barbados Race, and two days of coastal racing on the West and South coast.
9.      Eco Adventure Park at Harrison's Cave
At the heart of Barbados lies one of its greatest wonders – the magnificent Harrison's Cave. Located in the central uplands of the island, this crystallized, limestone cave is characterized by flowing streams, deep pools of crystal-clear water and towering columns.
The feeling of Excitement is synonymous with the year 2022 for Chukka Caribbean Adventures as they embark on the expansive development of Harrison's Cave Eco Adventure Park. From Zip-Lines to Rum Tasting and Gully Swings, the Chukka team is ready to play, creating Barbados's first ever Eco Adventure Park on the historical limestone property of Harrison's Cave.
The project has begun, and the expected completion date is August 2022 with current joint attraction tours ongoing from 2021 onwards. These new elements will complement the signature attraction of the Cave, while providing a "stay and play environment". Stay tuned to their social media pages @harrisons_cave and @chukkacaribbean for further updates.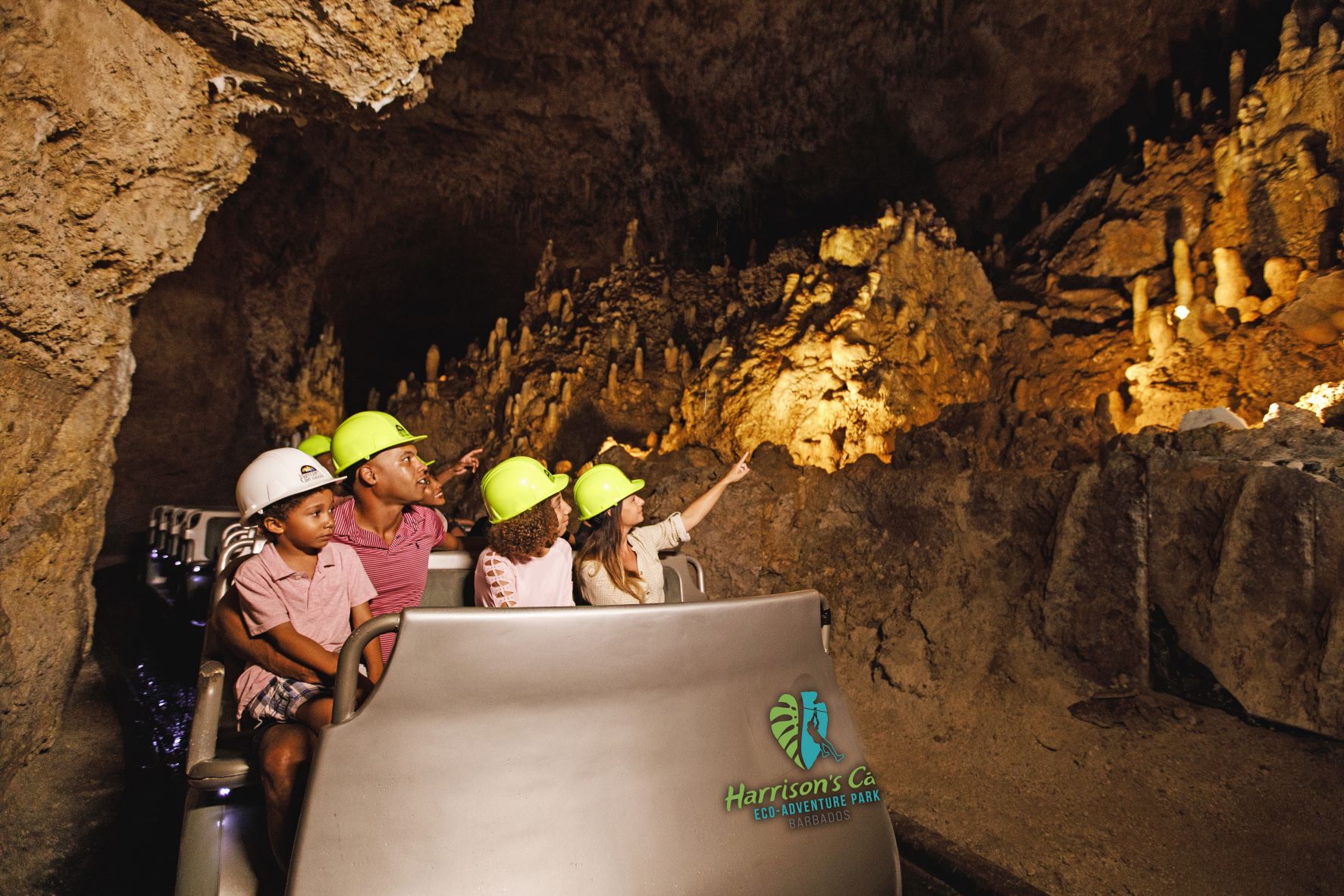 Harrison's Cave Signature Tram Tour
10. Apes Hill Golf Beach Club Golf Development
Apes Hill is a 450-acre luxury active lifestyle community located on the highest point of Barbados overlooking the Atlantic Ocean and Caribbean Sea.
The resort is currently under renovation and will Open in November 2022. The 18-hole championship golf course, redesigned by Ron Kirby of 'Old Head' fame, has spectacular views over Barbados' east coast and the state of the art Golf Performance & Teaching Center and floodlit 9 hole par 3 course make the golfing experience the best in the Caribbean. Tennis, paddle tennis, 11 km of gully walks, fishing and the fitness centre, spa and pool means there is something for everybody. There will be 200 luxury homes built in addition to a Villa Hotel and beach club.
More information at www.apeshillclub.com.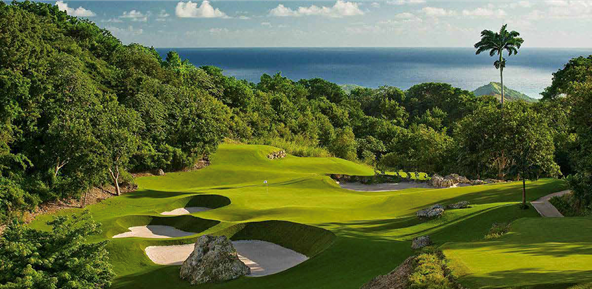 Apes Hill Golf Beach Club, Barbados
11. Sea Breeze Beach House, Barbados
Sea Breeze Beach House, the luxury boutique all-inclusive resort on the South Coast of Barbados, has recently launched a brand-new bar for guests.
Tipsy on the Beach is a chic open-air beach bar and lounge where guests can enjoy refreshing cocktails served in old-fashioned traditional Bajan enamel cups and a light bite to eat.
More information available at www.sea-breeze.com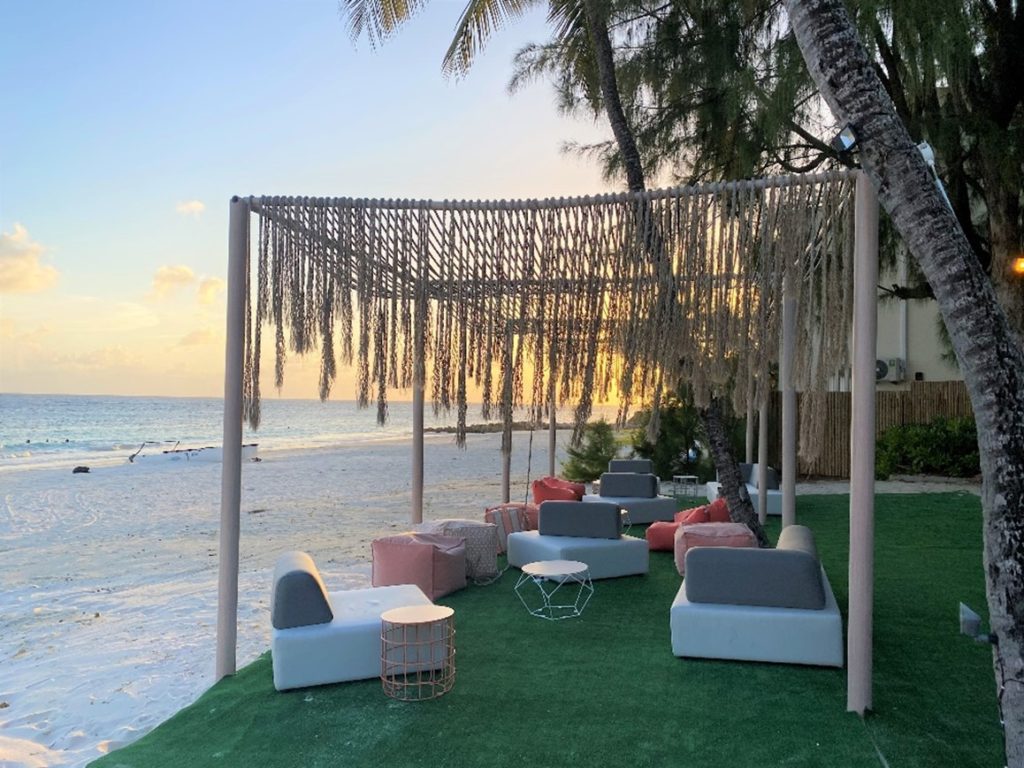 Tipsy Bar at Sea Breeze Beach House
12. Deia Beach, Barbados
Situated on a beautiful white sand beach on Barbados' south coast, Deia Beach is expected to set the tone for quality, ambience, and service for years to come.
Opening late December 2021 and locally owned, Deia comes inspired by beach clubs and restaurants from around the world and will blend trendy Mykonos and Tulum style inspiration with Caribbean beach chic. Whether you visit for a delicious ocean side meal or spend the day sipping cocktails whilst relaxing on our beach chairs, you can be sure to let your hair down, put your feet….and let the team at Deia take care of the rest.
Follow Deia on Instagram – https://www.instagram.com/deiabeach.
Website: www.deiabeach.com, coming soon!
13. Sam Lord's Castle, Wyndham Grand Resort
Sam Lord's Castle Barbados, a Wyndham Grand Resort, is due to begin welcoming guests from May 2022. The Resort is located on the former site of Sam Lord's Castle, a spot known for pirate activity in the 19th century and will boast 450 luxury rooms and suites. In addition, this one-of-a-kind property will offer three onsite restaurants, state of the art meeting space and an extensive luxury spa and fitness centre.
14. O2 Beach Club & Spa, Barbados
Officially opening in November 2021, the O2 Beach Club is located in the popular area of Saint Lawrence Gap and will offer an incredible range of modern facilities and 130 deluxe rooms and suites.
Boasting stunning swim-up rooms, an adult only collection, a concierge collection with a range of upgrade services, 42 new luxury junior suites, three swimming pools, two six dining options, seven bars, a 24-hour gym and a full-service spa, this property is expected to be very popular with visitors to the island this Autumn.
O2 Beach Club & Spa is currently accepting bookings online and by phone, with all-inclusive rates starting at £260 per room per night for a Club Room and £520 per room per night for a Concierge Collection one-bedroom suite.
For more information or reservations, please visit www.o2beachclubbarbados.com or call 1-888-964-0030.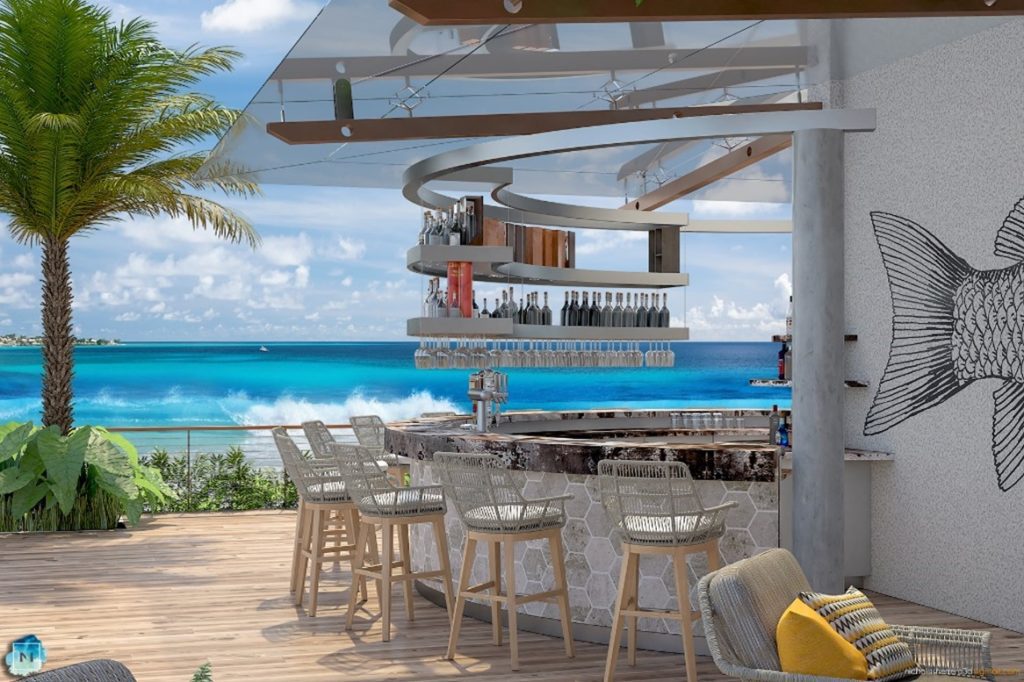 Elements Bar at O2 Beach Club & Spa, Barbados
15.  Butterfly Beach Hotel updates its Restaurant
Butterfly Beach Hotel has recently launched their redesigned Reef Bar + Grill for the best in ocean front dining, cocktails, or coffee on the deck!  With the new boho chic décor and thoughtful menu with locally sourced medley of international and local favorites we have something for everyone. The fish tacos in particular have been a hit with the resorts' valued guests!
Butterfly Beach offers simply the best beachfront value in Barbados offering a mix of rooms and studios that feature self-catering facilities. The property underwent a redevelopment in 2018 with refurbished rooms and a new additional lap pool. With both the beach and all the attractions of the south coast at your fingertips, it continues to be a firm favorite with UK guests year-round.
16. Barbados Special Offers
Book your Caribbean holiday to Barbados now with great deals from some of the island's best-loved hotels and resorts.
Divi Southwinds Beach Resort
The recently renovated Divi Southwinds Beach Resort, Bridgetown, are offering 30% off all 2021 and 2022 getaways to Barbados. Vacation-seekers can score rates as low as $145 per night (room only – 2021 dates) and $169 per night (room only – 2022 dates) from now until the 20th of December 2021 for travel through the 31st of December 2022. Plus, travellers who sign up for Divi's Devotion Discount will receive an additional 5% discount on new bookings.
For reservations or more details on the sale, visit www.diviresorts.com/specials.htm, use promo codes 30OFF or 30OFFAI, or call 1-919-419-3484.
Little Good Harbour
Located outside Speightstown, Little Good Harbour is a family run boutique hotel offering great value for long stay guests travelling in 2022. Valid for travel between 15 April – 20 December 2022, guests can save up to 47% off a minimum of 30 nights in a 1-Bed Garden Suite. Between 8th of January – 10th of April 2022 guests of Little Good Harbour can avail of complimentary Airport Fast Track Service.
Planning a wedding? Little Good Harbour's special wedding packages start at US$1,900 including airport transfers, fast-track service, ceremony, photography and more
The Atlantis Historic Inn
Perched on the East coast of Barbados, the Atlantic Historic Inn is offering groups and families special buy out rates throughout 2022. Guests can book all 7 rooms with a maximum of 14 people and receive a discount of up to 59%! This offer includes exclusive use of the whole main house building, including brand new renovated communal lounge and kitchen areas.
Try the Atlantis Historic Inn's long stay offer – Stay a minimum of 30 nights in a 1-Bedroom Coastal or Oceanfront Room and save up to 75% for travel in 2022.
Enjoy the best of both worlds with an East meets West – Little Good Harbour & Atlantis Historic Inn Package offering a saving of 32%.
The special two-centre Barbados 1 week package Includes:
4 nights in a 1 Bedroom Suite at Little Good Harbour
3 nights in 1 Bedroom Coastal View or Oceanfront at The Atlantis Historic Inn
Private transfer between the hotels
A bottle of Prosecco in room on arrival at first hotel and a welcome drink at the second
Continental breakfast at each hotel daily
Dinner included daily at both hotels (Note: dinner can be exchanged for lunch within the same property)
ENDS
For more information on Barbados, please visit www.visitbarbados.com
Media Contact – TravelMedia.ie

Michael Collins

+353 86 858 3585

Ali Finnegan

+353 86 049 2394
About Barbados
The island of Barbados offers a unique Caribbean experience steeped in rich history and colourful culture and rooted in remarkable landscapes. Barbados is the home of two of the three remaining Jacobean Mansions left in the Western hemisphere, as well as fully functional rum distilleries. In fact, this island is known as the birthplace of rum, commercially producing and bottling the spirit since the 1700s. Each year, Barbados hosts several world-class events including the annual Barbados Food and Rum Festival; the annual Barbados Reggae Festival; and the annual Crop Over Festival, where celebrities such as Lewis Hamilton and its very own Rihanna are often spotted.
Accommodations are wide and varied, ranging from picturesque plantation houses and villas to quaint bed and breakfast gems; prestigious international chains; and award-winning five-diamond resorts. In 2018, Barbados' accommodation sector captured 13 awards in the Top Hotels Overall, Luxury, All-Inclusive, Small, Best Service, Bargain, and Romance categories of the 'Traveler's Choice Awards'.
Getting to paradise is a breeze: the Grantley Adams International Airport offers plenty of non-stop and direct services from a growing number of U.S., U.K., Canadian, Caribbean, European, and Latin American gateways, making Barbados the true gateway to the Eastern Caribbean. Visit Barbados and experience why for two years in a row it won the prestigious Star Winter Sun Destination Award at the 'Travel Bulletin Star Awards' in 2017 and 2018.
For more information on travel to Barbados, visit www.visitbarbados.org, follow on Facebook at http://www.facebook.com/VisitBarbados, and Twitter @Barbados.