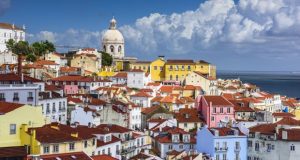 There was excitement today in Cork Airport as
Aer Lingus and Visit Portugal celebrated the launch of a new twice-weekly service between Cork Airport and Lisbon. The sold-out inaugural flight took off this afternoon to great fan-fare.
The new service will operate twice-weekly on Mondays and Fridays. The announcement of the route was made together with the unveiling of Aer Lingus's winter schedule for Cork in May – which will see a total of 438,000 seats to a combination of UK and European cities and sun holiday destinations.
Guests on the first official flight received a warm welcome at Cork Airport from a string quartet at the arrival gate. Kevin Cullinane (Head of Communications) gave the welcome address and introduced speakers: Greg Kaldahl, Chief Strategy and Planning Officer (Aer Lingus), An Tanaiste Simon Coveney TD and Niall MacCarthy, MD Cork Airport.
Susana Cardosa, Director of Visit Portugal in Ireland, commented, "This new route will place Lisbon only two and a half hours away from Cork. An additional reason for people who use the Cork Airport to choose Portugal when thinking about going for a city break, for a golf trip or for a summer holiday. Lisbon is an excellent gateway destination to explore other regions of Portugal that are not as well known among the Irish people, such as Alentejo and the center of Portugal. With this new route we are very much looking forward to welcoming more Irish tourists throughout the country."
Irish tourists continue to flock to Lisbon, the capital city of Portugal, which has become an increasingly popular place to visit in recent years. Lisbon is renowned for its culture, good weather, stunning architecture and delicious food. This vibrant city has something for everyone!