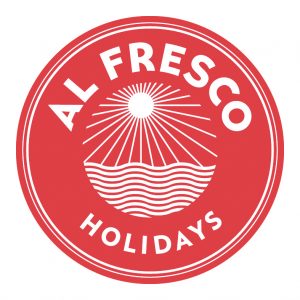 Press release date: 13th November 2018
Family camping holidays in France are a still a firm favourite with Irish holidaymakers, and you can save up to 20% off yours, with Al Fresco Holidays.
Al Fresco Holidays luxury mobile homes are on some of the best campsites in France, set in stunning beach, lakeside and mountain settings, providing fantastic facilities and tasty restaurants, whilst offering a wonderfully relaxing holiday atmosphere.
Book now & receive 20% off on some of Al Fresco Holidays top recommended parks! (applicable on departures from 1st June 2019 – 24th August 2019)
Domaine des Ormes, Dol-de-Bretagne, North Brittany
Depart on 2nd June 2019 for 12 nights, from €585 per 2 bedroom mobile home.
La Grande Metairie, Carnac, South Brittany
Depart 2nd August 2019 (bank holiday weekend) for 8 nights, from €1,275 per 2 bedroom mobile home.
La Vallee, Houlgate, Normandy
Depart 6th July 2019 for 7 nights, from €859 per 3 bedroom mobile home.
Le Croix du Vieux Pont, Berny-Rivière
Depart 28th June 2019 for 10 nights, from €1359, 2 bedroom Lake View Lodge (Lodges new to Al Fresco)
GROUP OFFER
Up to 50% off with a booking of 2 mobile homes or more. Applicable to departures from 1st June – 28th June 2019.
Terms & Conditions Apply. Optional chargeable extras can be added, linen and breakage cover. All prices are subject to availability and offers can change or be withdrawn at any time. 20% discount valid for the above mentioned parks only. Discount already applied to all prices quoted above. Group offer not to be combined with any other discounts so either 20% off or group discount. Al Fresco is fully licenced & Bonded by commission for Aviation Regulation (TAO136)
Find out more about Alfresco Holidays and its 70+ parks in destinations in France, Italy, Spain, Croatia, Holland, and Austria by visiting www.alfresco-holidays.ie.
Al Fresco Holidays is fully licensed by commission of aviation regulation (TA 0136).
TravelMedia.ie
Niamh Waters
Ph: +353 86 0492394
Email: niamh@travelmedia.ie
Michael Collins
Ph: +353 86 8583585
Email: michael@travelmedia.ie