Reading through negative reviews on your own hotel is a task that can leave you feeling deflated and demotivated. But every cloud has a silver lining and negative reviews are no exception. You wouldn't refuse to respond to someone who approaches you in person with a complaint, and you should look at online reviews in the same light.
The importance of responding
TripAdvisor alone has more than 230 million online visitors each month, and making sure your hotel is seen in the best possible light is of utmost importance.
Scanning various review websites for new comments should be part of your daily routine (or at least every other day). By doing this, you open yourself to the chance of responding to new reviews in a timely manner that will help keep customers happy.
The longer you leave a negative review unanswered, the more likely you are to put off potential customers who read that review and make a quick judgement on whether or not to visit your hotel.
A recent survey from TripAdvisor showed that 62% of people agree that seeing hotel management respond to reviews generally makes them more likely to book.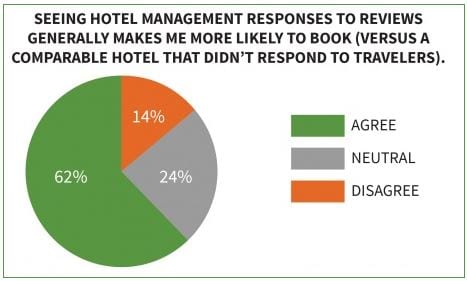 That statistic alone should encourage you significantly to diligently search and respond to reviews (and not just on TripAdvisor – There are many other review sites out there).
Should I respond to all reviews?
In short; absolutely.
The power of a simple 'thank you' in response to a positive review can go a long way. However you must steer clear of stock or generic replies as these can create a negative effect in themselves. By repeating yourself too often you can come across insincere and as someone who doesn't really care about their guests.
Take the time to read the positive review and comment accordingly. You can do this by personalising each response that is tailored to suit whatever they are praising about their stay.
Answering all negative reviews can arguably be considered more important as this shows that you take customer service seriously and your responses can quickly answer questions others may have about your hotel.
How should I respond to a negative review?
After first reading a negative review, it's very easy to go on the defensive. Take a step back and compose yourself. You can do more damage than good by furiously typing a response.
Try to understand where the customer is coming from. Step inside his or her shoes and go from there. It is of utmost importance to be courteous and stay professional.
Not only will the person who wrote the review see your reply, but the rest of the people looking at reviews for your hotel will as well. Write it as though you are addressing that individual, but in front of a large audience.
Remember to take the time to address the specific issues and not go off on a tangent. Thanking the reviewer will show that you value customer feedback and you can even take the time to show people that you are using the feedback to improve your business.
Changing your perceptions
Negative reviews should be seen as a positive thing. Obviously if you do not receive any negative reviews, that is fantastic, but turn those negative ones into something positive.
Use these reviews to actively improve your business. This will show customers that you understand their responses and you value their feedback.
The good, the bad and the ugly
Here are some examples of good and bad replies to hotel reviews. These should give you a little inspiration of what to do and what not to do.
The good: Even though this review yields 5 stars from this hotel goer, they still have a complaint with the on-site restaurant. Jessica immediately thanks them for the great review and offers a solution to their restaurant complaint by informing them that their new executive chef will be starting soon, who will bring with them a brand new menu.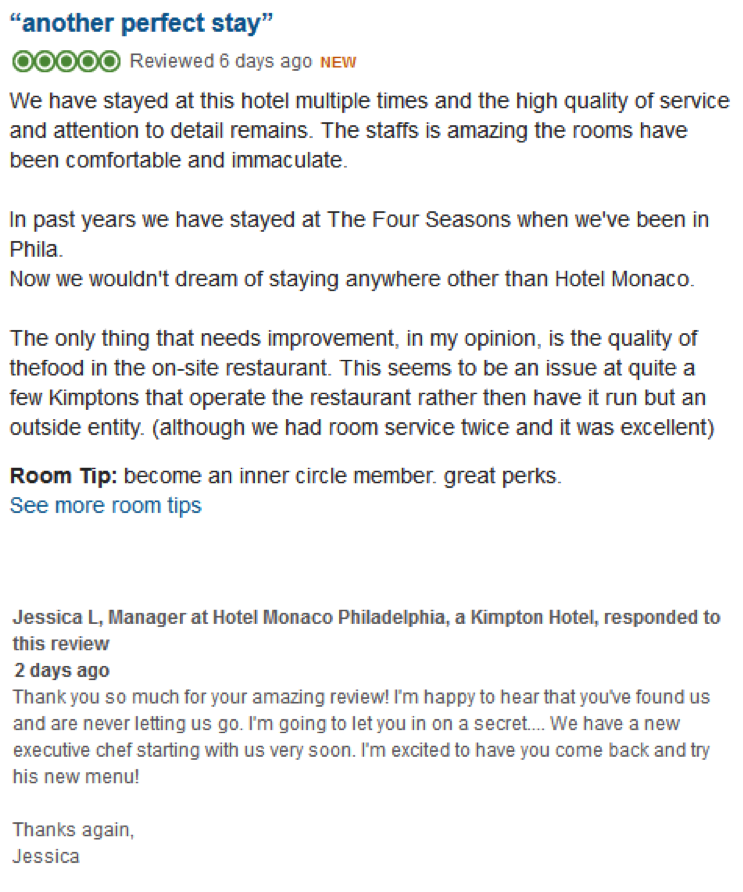 The bad: Christopher showed his unhappiness with his stay and shortly found an unapologetic response from the hotel owner who told him to "Get real".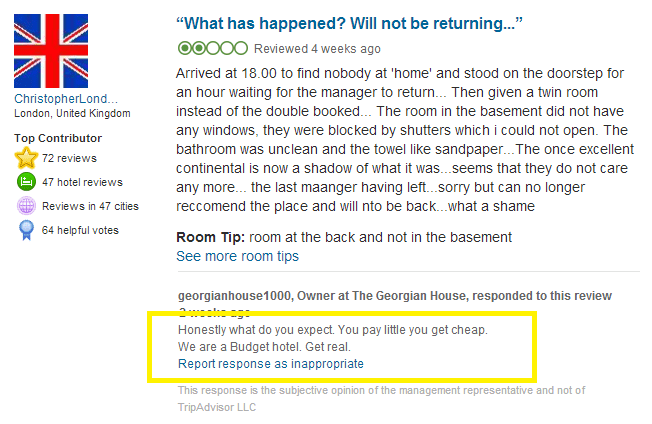 The ugly: Lou Taylor was very unhappy with her stay in a Glaswegian hostel and wrote a review on their Facebook page. What happened next is nothing short of unacceptable and is something that turned into a little internet sensation as people poured onto the Facebook page to watch the argument unfold.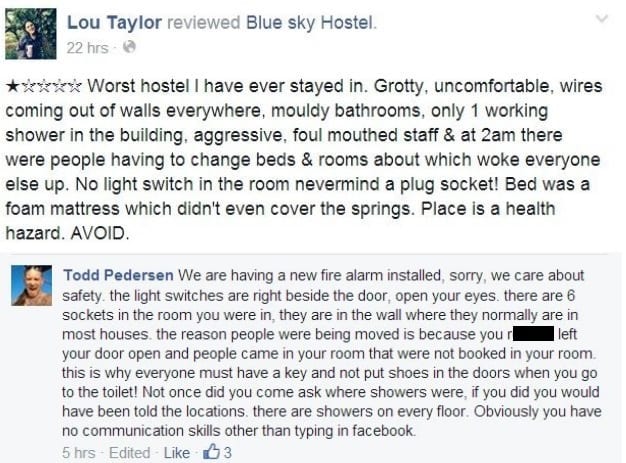 Takeaways
Negative reviews should be constructed into something positive.
Take your time in replying to reviews and offer solutions to people's complaints.
Aim to see their side of the story and don't go on the defensive.
Remember to be polite and professional and you'll soon be turning those negative reviews into positive ones in no time. 
Wondering how YOU should respond to a negative review? Contact us or tweets us @TravelMedia_ie
Author Bio: Matt is a writer for HotelContractBeds.co.uk, focusing on travel tips and social media marketing.
Follow Matt on Twitter: @Mattjpierce