As we all know by now, Facebook is ever changing. Sometimes these changes can prove irritating for users and sometimes they can prove useful, thankfully, the latest update in the world of Facebook is definitely an improvement.
This week, Facebook announced that its latest update will be cracking down on 'click-baiting', a tactic used by some publishers to encourage users to click on a link to see more information. 
Previously, Facebook's algorithm had rewarded click-baiting headlines. The more clicks a post got, the more people it was shown to and the higher up in the newsfeed it went. However, this is all about to change following a Facebook survey which revealed that 80% of the time, users prefer headlines that let them decide if they wanted to read an article or not.  
So, how are Facebook planning on determining what is a click-bait headline and what isn't? The answer lies in the quality of a link's content.
From now on, Facebook will be monitoring to see how long people spend away from the site after they click a link. For example, if somebody clicks a link and comes straight back to the Facebook newsfeed it will suggest they were not happy with what they found.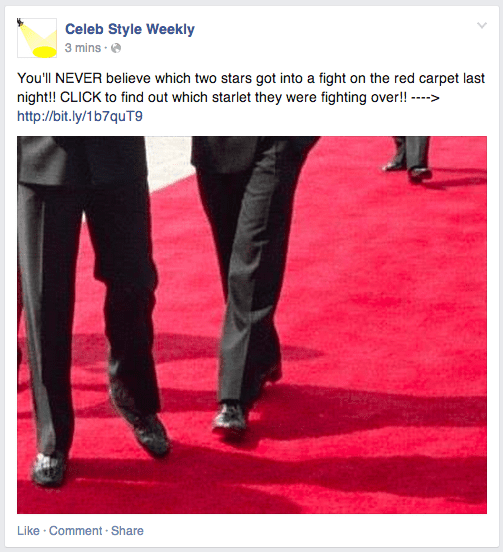 Facebook will also be looking at the number of people clicking on a certain link and comparing it with the number of people who are liking, sharing and commenting on the link – this will be a good indicator of whether people have found the link to be valuable or interesting.
Aside from clamping down on click-baiting, Facebook have also said that their latest update will prioritise links shared in the link format. This is important to note as from now on, any links shared in the body of a status, or in the caption of a photo, will be shown less frequently.  
What does this all of this mean for marketers? Facebook have said that this update will affect a very small amount of publishers who use click-baiting headlines regularly, so most people should have very little to be concerned about. To avoid being punished by the new algorithm, all marketers need to do is make sure the content they're sharing is content that people want to read and engage with – something that any good marketer is doing anyway.
What we think of the new Facebook update
Here at TravelMedia.ie we think this new update is going to help make Facebook a much more enjoyable experience for users. By weeding out annoying and irritating posts, Facebook is trying to improve the quality of the News Feed and reward those who make the effort to share great content.
What do you think about this new update? Tweet us @TravelMedia_ie and let us know!