From the 1st to the 3rd of November 2021, the TravelMedia.ie team attended World Travel Market in the ExCel Centre, London. The TravelMedia.ie team attended the event with Barbados Tourism Marketing Inc. (BTMI) as their public relations reps in the UK market.
Alongside TravelMedia.ie's Michael Collins, Ali Finnegan, Raluca Andronic, and Leslie Graham, the Barbados delegation at the event included Barbados Minister for Tourism and International Travel, Lisa Cummins; CEO of Barbados Marketing Tourism Inc. (BTMI), Jens Thraenhart; BTMI Chairman, Roseanne Myers; BHTA Chairman, Geoffrey Roach; BTMI Director Europe, Anita Nightingale; BTMI Interim Head of Global Markets, Cheryl Carter; and more.
What is World Travel Market, London?
World Travel Market is one of the leading annual events for the international travel sector, hosted in the ExCel Centre, London. The three-day event welcomes travel media, airlines, tour operators, hoteliers, and representatives from the travel agent community worldwide.
For those that attend World Travel Market, they can expect a jam-packed three days of press briefings, meetings and networking with members of the global travel industry. The 2021 event saw exhibitors from more than 100 countries and regions, more than 6,000 pre-registered buyers from 142 countries and travel professionals from all over the world.
What Does TravelMedia.ie Do at World Travel Market, London?
In 2021, TravelMedia.ie attended World Travel Market to represent Visit Barbados as their travel PR agency in the UK market. The media interest in Barbados was visible throughout the three days in the ExCel Centre.
The TravelMedia.ie team, Michael, Ali, and Raluca, met with over 30 media from across the United Kingdom and Ireland during the event, forming and solidifying relationships with journalists, bloggers, and influencers, and securing press trips and media coverage for the Barbados tourist board for the upcoming year.
As part of TravelMedia.ie's PR plan for World Travel Market, London, the team created a comprehensive press release which was distributed to all travel trade and consumer media we met with over the three days. This press release included all the latest Barbados news, including new flight routes, new hotel openings, the redevelopment of tourist attractions on the island and upcoming events in Barbados.
Barbados' Minister for Tourism and International Travel, the Hon. Lisa Cummins, was in attendance at the three-day London networking event. The TravelMedia.ie team lined up several interviews for the Minister over the course of the three days with a number of media, including the Financial Times, BBC, Business Traveller Magazine, and TravelMole. This generated huge coverage for Barbados in England and across the United Kingdom.
After an action-packed three days, TravelMedia.ie curated a press release on behalf of the tourist board to be distributed to media on the ground in Barbados. As TravelMedia.ie are appointed travel PR agency for the tourist board in the United Kingdom and Ireland, this press release was also distributed to media across both regions.
Post-event, TravelMedia.ie's Michael Collins and Ali Finnegan were kept busy doing follow-ups with the media they met with in London. During these follow-ups, the team received pitches from media and proposed these PR activities to the tourist board to promote Barbados within the UK and Irish markets.
Why is World Travel Market Useful for UK Travel PRs?
The million-dollar question – why is attending WTM helpful for travel public relations agencies in the UK? At its essence, World Travel Market is a networking event, allowing PR professionals to meet with a huge number of media from the United Kingdom and all over the world. In today's world, face-to-face interaction is more important than ever before. When meeting with travel media, consumer and trade, these relationships are better developed in-person and then nurtured over email and at future travel industry events.
Looking for new PR clients? Events like World Travel Market have representatives from tourist boards, tour operators, airlines, cruise companies and more. By scheduling appointments with suppliers, UK travel publicists have the ability to develop new relationships with a number of travel trade. Schedule appointments prior to the event or simply call over to individual suppliers' stands for a chat. Pitch yourself and your company, you never know what opportunities may arise. It's a lot easier for UK travel PR firms to leave a lasting impression by pitching themselves in person than over email.
Are There Other Events UK Travel PRs Should Attend?
Whether you're a UK-based travel public relations agency, or singular travel publicist working in the United Kingdom, there are a number of great events across Britain, Europe, and around the world that travel public relations firms in the UK should attend to network with media, promote yourself and you clients.
Read on to see some of our favourite events for those working in travel public relations UK…
ITB Berlin
ITB Berlin is the world's largest tourism trade fair. Taking place from the 9th – 13th of March 2022, this travel industry event has a busy programme of digital marketing, and social media events, including expert industry and influencer panels and presentations.
ITB Berlin is the ideal event for travel PR professionals to attend to find new contacts and network within the tourism industry, to learn about new industry trends, grow existing business relationships and attract new clients.
Meet the Media
Organised by TravelMedia.ie, Meet the Media is a one-day networking event for the international travel trade and Irish media. The event takes place annually, usually in February in Dublin City Centre.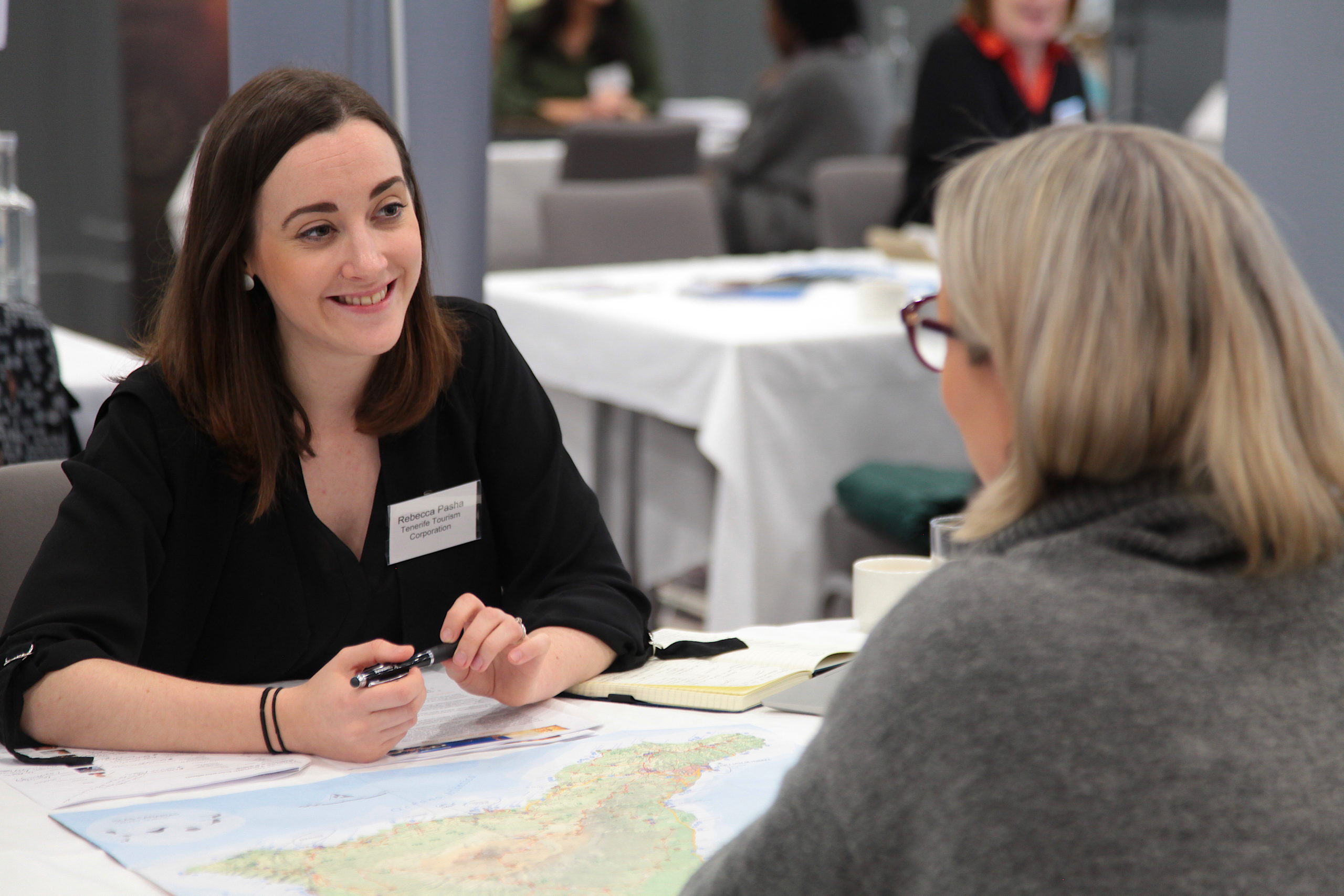 The 2022 Meet the Media event is scheduled for the 14th of February and will take place in the 5* Radisson Blu Royal Hotel, Dublin. Prior to the event, media and suppliers arrange speed networking appointments via an online portal allowing for a smooth sailing event day. This unique event connects media from all over Ireland and the UK (print, broadcast, online, digital, bloggers, influencers) with worldwide travel suppliers including airlines, hoteliers, tourist boards and tour operators.
To register for Meet the Media 2022, please email Ali Finnegan ali@travelmedia.ie
IMM, UK
Organised by Travmedia.com, International Media Marketplace (IMM) is a scheduled-meeting networking event run by Travmedia.com. The 2022 event is scheduled to take place from the 14th – 15th of March 2022 in the QEII Centre, London. Attendees can expect to find local tourism organisations and travel brands taking stands and meeting with bloggers, influencers, traditional travel writers and other travel media over the course of the event.
In terms of travel public relations in the UK, IMM offers five development sessions for PR professionals, delivered by a range of experts from the media, PR sectors, as well as social media specialists
TBEX Europe (Travel Blogger Exchange)
Taking place from the 15th – 17th of March 2022 in Marbella, Spain, TBEX Europe is the largest conference and networking event for travel bloggers, online travel journalists, new media content creators, travel brands and industry professionals from around the world.
TBEX holds annual conferences not just in Europe but also in North America, and Asia Pacific, with each event welcoming 600-800 delegates from all corners of the world. Attending TBEX is a great opportunity for travel PR firms in the UK and Ireland and their clients, to network and develop relationships with some of the most influential travel bloggers and digital content creators worldwide.
Traverse
Traverse is a 2-day blogger conference aimed at new bloggers and influencers developing their skills. It started in Brighton in 2013 and moved around the UK (Newcastle, Kingston-upon-Thames, Cardiff) ending up in London in 2017 with around 500 delegates.
Speakers at this conference are mostly pro-bloggers, and experts in marketing, editing, videography, etc. Traverse is a great event for Irish and UK travel PRs who use the conference and its social events running over the preceding week, to network and build relationships with up-and-coming bloggers.
Traverse also run half the social media programme at World Travel Market, and a number of other social media marketing & networking events.
Social Media Marketing World, San Diego
Taking place from the 14th – 16th of March 2022 in sunny San Diego, California, Social Media Marketing World is claims to be "the world's largest social media marketing conference" and with around 5,000 attendees and speakers annually, it probably is!
In today's world, no public relations campaign or PR activity is complete without social media, whether that's one Tweet, or a paid Facebook advertising campaign. Social Media Marketing world is the perfect place for travel PR agencies UK and worldwide to develop their social media skills, learn about new trends, and, of course, network! This conference offers attendees a busy programme of presentations, panels & workshops from top social media marketers.
Thank you for reading our blog 'Is World Travel Market Beneficial for Travel Public Relations in the United Kingdom?'. If you're in the market for travel PR representation in the UK and Ireland, contact TravelMedia.ie today.