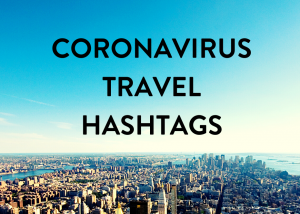 In this blog, we look at 30 commonly used coronavirus and travel hashtags on Twitter and their potential reach. This list comes from research on Twitter over the course of a week (April 30th – May 6th, 2020) and from a Q&A with travel writers and bloggers. We asked our travel media community and friends what hashtags they are currently using when posting travel content during the pandemic. TravelMedia.ie is a specialist travel PR agency, with a focus on all things digital.
In this blog, we have purposely not looked at Facebook travel hashtags. That is a whole other topic of conversation. While hashtags on Facebook do work, they operate in a completely different way to Twitter and Instagram. In the future, we hope to do separate research and blogposts for both Facebook and Instagram travel hashtags.
The idea of this blog is to establish which Twitter hashtags travel writers and content creators should be using to gain the best reach. So that their content can reach the most people, and the most relevant audience. All too often we post on social platforms fast and quick – we do not take the time to research the best hashtags. Social media is very time consuming and sometimes one just does not have the time. So, to try and help, we have done the research for you. Hopefully now you can all post knowing which travel hashtags are best to use, which will get your Twitter posts and content the best potential reach.
Please note, the below list was compiled on Wed May 6th, 2020 using the Union Metric tool, 'Tweet Reach'. It goes without saying, this research is a snapshot in time. Metrics, hashtag use, and tools change all the time. Other tools will likely produce slightly different numbers. The results are ephemeral. They should be a guide, not definitive. That said, they are a good guide. The results are rather interesting and worth noting. If you have the time, do your own research, especially if you are sharing important content. You want to get it right. One clear take-away from this blog, is 'don't make assumptions, do the research'.
This blog post is in many ways a follow-on from a post and research carried out a few years back – 'What are the most popular and widely used travel hashtags on Twitter?'. That post only looked at travel hashtags use on Twitter, which were the most popular and which had the best potential reach*. This blog post differs in that is looks at travel hashtags in the time of coronavirus. It combines travel hashtags and travel related coronavirus hashtags. The big difference in hashtag use during the coronavirus pandemic is that the hashtags are about future travel, armchair and aspirational travel. They all try to convey a positive message, when we travel again, travel from home or stay inspired.
Top Travel Hashtags List
Now let us look at the list. Top of the list, #stayinspired. Not surprising, it covers travel and so much more. Great potential reach, 2.5m accounts. The next two are also somewhat generic. The top three are included in this list as they are all being used regularly in travel posts, in conjunction with travel only hashtags.

The first of the travel hashtags that is specifically travel related is #armchairtravel * with a potential reach of 702,524. This has been a very popular trend within the travel industry during the pandemic as a way to keep people dreaming of travel while they stay at home. The second travel specific hashtag is #dreamnowvisitlater with a potential reach of 415K, clearly positive and looking to the future, when we can all hopefully travel again.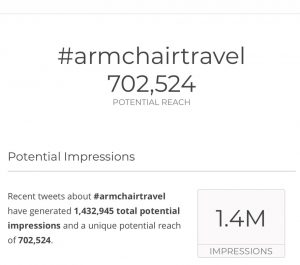 The next two on the list, positions 6 and 7 are surprising. They are travel hashtags that are not specific to coronavirus. These two are interesting in that none of the travel media I contacted when researching the list gave me these. No one said they were using #ttot or #traveltuesday. I added them myself to the research just to see if the old school, traditional hashtags were still being used, to compare the old 'normal' to crisis pandemic times. See our travel only hashtag post for non-coronavirus travel hashtag research.

The take-away is clear. Again, do the research, do not assume. Do not follow the crowd and use the same hashtags just because it seems everyone else is using coronavirus travel hashtags. Do not rush your Tweets. A little research and you can double or increase by 100% your potential reach and audience. Compare #TravelTomorrow and #DreamNowVisitLater and difference is 100% or 200K more accounts.
Looking further down the list, there a few travel hashtags such as #traveltomorrow and #travelagain that I had assumed before doing the research, that they would have been the most popular. I certainly seemed to be seeing them more. But I am only a focus group of one, so again, best to do the research.
| | | |
| --- | --- | --- |
| 1 | #stayinspired | 2,506,128 |
| 2 | #togetherathome | 1,831,656 |
| 3 | #armchairtravel * | 702,524 |
| 4 | #stayhome | 479,552 |
| 5 | #DreamNowVisitLater | 415,485 |
| 6 | #ttot | 413,243 |
| 7 | #traveltuesday | 401,528 |
| 8 | #strongertogether | 347,400 |
| 9 | #travellater | 341,267 |
| 10 | #travelfromhome | 297,597 |
| 11 | #TravelAgain | 270,554 |
| 12 | #viewfrommywindow | 257,192 |
| 13 | #travelsoon | 232,603 |
| 14 | #inthistogether | 224,236 |
| 15 | #TogetherInTravel | 215,880 |
| 16 | #OneTravelIndustry | 212,334 |
| 17 | #TravelTomorrow | 204,153 |
| 18 | #wewillbeback | 196,365 |
| 19 | #whenwetravelagain | 172,362 |
| 20 | #betogether | 171,273 |
| 21 | #WhenThisIsAllOver | 170,268 |
| 22 | #PostponeDontCancel | 134,266 |
| 23 | #endthelockdown | 101,485 |
| 24 | #WithTravel | 29,981 |
| 25 | #HolidayHereThisYear | 21,041 |
| 26 | #travelpostcoronavirus | 8,371 |
| 27 | #traveltradetogether | 3,985 |
| 28 | #traveltheworldfromhome | 0 |
| 29 | #waittovisit | 0 |
| 30 | #dontcancelrebook | 0 |

*potential reach. The phrase 'potential reach' indicates best mean possible reach for a Tweet. It is an average from the previous 30 days. Some Tweets using the listed hashtags can potentially reach more people/accounts, some will reach less. The average total is therefore indicative.Notes. This research was carried out on Wednesday May 6th, 2020. We used the Tweet Reach took by Union Metrics to research hashtag potential Twitter reach. There are many other similar tools such as HashTracking.
* #armchairtravel. On May 11th Keith Jenkins from iAmbassador and VelvetEscape.com suggested we add #armchairtravel. The research for #armchairtravel was conducted on Mon May 11th.
About the Author
Michael Collins is the founder and Managing Director of TravelMedia.ie, a travel PR and digital agency. Prior to establishing TravelMedia.ie in 2006 Michael worked as a travel journalist, editor, and broadcast presenter. Michael is a regular speaker at travel and social media conferences  around the world (or was, until covid-19 hit). TravelMedia.ie are based in Dublin, Ireland, and work with clients in the US, Europe and internationally.