There was a lot on for the team here at TravelMedia.ie in the month of November with press trips, conferences and much more keeping us busy for the whole month. Let's take a look at some of the highlights.
WTM 2022
The start of November saw the annual World Trade Market take place in the ExCel exhibition centre in London. TravelMedia.ie were delighted to be present at WTM, representing Barbados Tourism Marketing Inc. (BTMI).
Over the course of a hectic few days, there was lots of exciting events that we were honoured to be in attendance for. On the Friday before WTM (the 4th November), Leslie, Raluca and Michael were in attendance for a special reception with Barbados Prime Minister, the Hon. Mia Amor Mottley Q.C. M.P. at the Mayfair Hotel London, pictured below.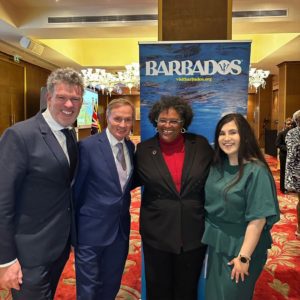 On Sunday, TravelMedia.ie was present for the British Guild of Travel Writers Awards in Riverside Studios. We ran social media for the event and in attendance was Michael Palin, actor and travel documentary maker. Mr Palin was honoured on the night with an award for Outstanding Contribution to Travel Journalism.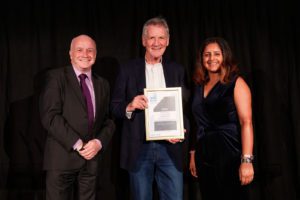 WTM then begun on Monday, November 7th, with Michael, Ali, Raluca, Paula, and Leslie on the ground for TravelMedia.ie. It was a fantastic three days filled with constructive conversations with representatives from across the travel industry. We helped to facilitate interviews for UK media with Barbados' Minister of Tourism, Ian Gooding-Edghill. We were also in charge of social for BTMI across the three days.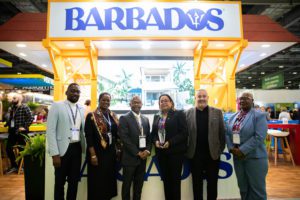 Gallery Hoteles Trip
On Tuesday, November 29th, Ali and Paula flew to Malaga in the south of Spain for an exciting press trip in collaboration with Gallery Hoteles. Ali and Paula hosted a number of UK-based media in the beautiful 4-star Hotel Molina Lario. The Hotel Molina Lario lies in the historic centre of Malaga, directly across from the cathedral and just a few meters from the famous Calle Larios.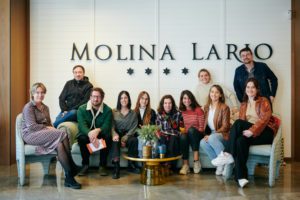 While there, the group got to enjoy some Christmas festivities including the Christmas lights show in the city centre. They were given a walking tour of the city and visited Museo Picasso. And they also got enjoy the gastronomy of Malaga, being served by Molina Lario's Restaurant Matiz.
ITTN Irish Travel Trade Awards and Travel Centres Conference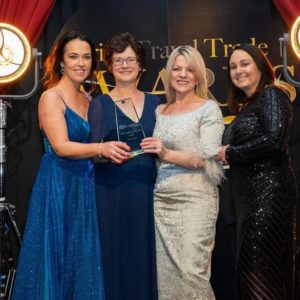 On Friday November 25th, Annette attended the ITTN Irish Travel Trade Awards on behalf of Visit Barbados where she and Lennon Chandler of Visit Barbados UK hosted a table of travel agents for a glamorous evening at the Clayton Burlington Hotel, Dublin with wonderful food, service, and an awards ceremony to recognise travel agents and suppliers in a variety of categories.  Annette was delighted to present the award for Best Luxury Travel Agent, which was sponsored by Visit Barbados to Fahy Travel, Galway.
Annette also attended the Travel Centres Conference in the Killashee Hotel, Naas, Co Kildare on behalf of Visit Barbados on November 12th.  The day began with talks in the morning, networking sessions with agents in the afternoon followed by an evening of awards and 'Roaring '20's' style fun and dancing into the early hours.
Raluca takes annual leave and jets off to NYC
Raluca took a well-deserved break and caught a plane to the beautiful city of New York, USA where she stayed in Kixby Hotel, with a 5-minute walk to Times Square.
With millions of things to do and only one week to spend, she had a jam-packed itinerary. Highlights included taking a Gossip Girl tour down 5th Avenue, a sunset boat cruise to the Statue of Liberty and a doors-off helicopter tour of NYC. She also enjoyed many of corn dogs and Manhattan cookies alongside iced coffee from Dunkin' Donuts.
Ali Graduates
Despite her busy schedule, Ali found time to graduate from her Masters in Digital Marketing Strategy from Munster Technological University. Not satisfied with just graduating however, Ali finished her masters by graduating top of her class. Congratulations Ali!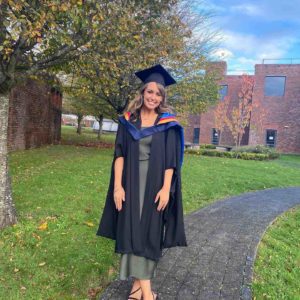 Michael and Leslie visit Uganda
To celebrate Michael's birthday, Michael and Leslie took a trip to Uganda in East Africa. It was a trip jam-packed with exciting activities for the guys to do. They enjoyed their experience on the Acacia Safari as well as some close encounters with a pack of gorillas which you can view below!
UNWTO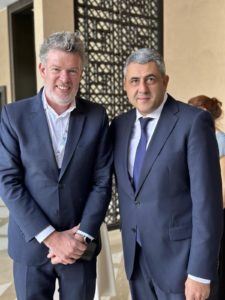 Michael was in attendance for a number of other important events across the month. He and Leslie were present for the Thematic Session of the 117th UNWTO Executive Council in the Moroccan city of Marrakesh.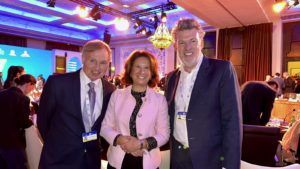 IBTM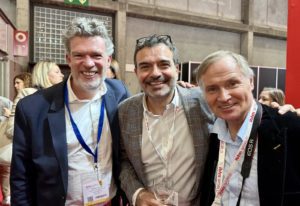 Michael also travelled to Barcelona for the annual IBTM World, the leading global event for the Meetings, Incentives, Conferences and Events (MICE) industry. Michael enjoyed the event and it served as great preparation for the MICE Meetup Dublin event, which takes place on Tuesday, April 11th.
Pragati Starts
November also saw us welcome a new team member to TravelMedia.ie. Pragati Parihar joined us in late November and will help Michael as his Personal Assistant as well as the rest of the team. Welcome to the team Pragati!