We're already a quarter of the way through the year now and it has flown by for the TravelMedia.ie team. March was a fun-filled month with lots of exciting trips, conferences and events keeping us busy throughout. Let's take a closer look at what went on.
Raluca attends Social Media Marketing World 2023 in San Diego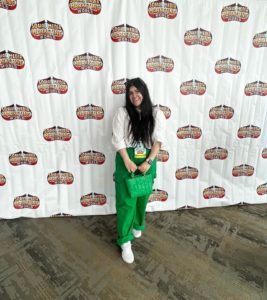 For the second year in a row, Raluca Andronic, Digital Account Manager of TravelMedia.ie attended the biggest social media conference worldwide, Social Media Marketing World 2023 which took place in San Diego, USA to learn more about all the latest updates in the world of social media.
The 3-day conference highlighted the latest social media trends and tools from the top experts in the industry. From Instagram to TikTok, Facebook to LinkedIn, there were insights and tips for every platform. Raluca was delighted to attend for the second time and reconnect with old colleagues and take part in the various networking opportunities to meet some new faces within the social media marketing industry.
Watch her Social Media Marketing World 2023 reel here.
Raluca jets off to the US on her annual leave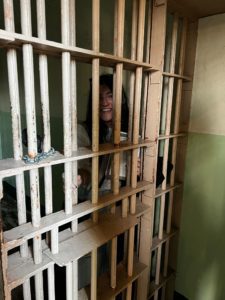 Raluca Andronic of TravelMedia.ie has taken the opportunity to take some well-deserved annual leave and combine her business trip to the US with some leisure. She extended her San Diego trip and spent a few extra days in San Diego, exploring the beautiful city and celebrating St. Patrick's Day before jetting off to San Francisco.
In San Francisco, Raluca enjoyed a city break with colleagues who she met at the conference last year. Staying near the bay, she enjoyed areas such as Pier 33, Chinatown, and the island of Alcatraz.
Michael in Lisbon for BTL
At the start of the month, Michael travelled to the Portuguese capital of Lisbon for Bolsa de Turismo de Lisboa, or Lisbon Tourism Exchange. BTL is the largest tourism fair in Portugal and gives tourism professionals, both media and trade, as well as the general public the opportunity to see what Portugal has to offer, with well over 1000 exhibitors participating across the five days.
Michael attends ITB
March was time for the world's largest tourism fair, ITB Berlin, to take place. From the 7th to the 9th, thousands of tourism professionals from all over the globe descended upon the German capital for three days filled with valuable networking, planning, informative talks and demonstrations, and as always creating and strengthening relationships, both personal and professional. TravelMedia.ie's MD, Michael Collins was in tow to do all of the above and more, connecting with other travel professionals from across the world.
Michael and Leslie travel to the Middle East
In what was a very quick turnaround after a busy three days at ITB Berlin, Michael, along with Leslie Graham, set off to Al Ula, Saudi Arabia. The pair were invited to attend the UNWTO (United Nations World Tourism Organisation) Small Village Awards, which took place from March 10th to 13th. The awards are designed to recognise the touristic merits and commitment to sustainable practices of smaller, more rural destinations across the world.
St. Patrick's Day
March sees one of, if not the, most important dates in the Irish calendar, our national holiday, St. Patrick's Day. Across the nation, parades and celebrations took place with everyone from locals to international visitors from around the world taking place in the festivities. The capital, Dublin, was a sea of green as thousands and thousands of people descended upon the city to admire the parade and have a pint or two of Guinness. Our own Raluca spent the day Stateside, acting as an ambassador in the city of San Diego.
Visit Connecticut Event in EPIC Museum
On the evening of Wednesday, March 22nd, Jenn, Michael, Colm and Annette all attended the re-launch of the Aer Lingus Dublin to Connecticut flight route in Dublin City's EPIC Museum, hosted by Visit Connecticut. The event was very well-attended with plenty of familiar faces there to learn more about what Connecticut has to offer as a tourist destination, with a selection of traditional New England cuisine being offered up to attendees and speeches from key members within the Connecticut Tourism community. There even some tunes supplied by DJ Marty Guilfoyle.
Bradley International Airport, New England's second largest airport, welcomed back direct flights from Dublin on Aer Lingus. The daily Aer Lingus flight marks a milestone for Bradley International Airport as Aer Lingus will operate the only direct service from Europe to Hartford, Connecticut.
Aer Lingus resumed its daily flights to Hartford from March 26th, 2023 until the end of October. The airline had paused its flights to Hartford since March 2020 due to the COVID-19 travel restrictions that were imposed across the globe. However, the airline is now ready to resume its flights to the Bradley International Airport.
Michael Attends UNWTO Sustainable Destinations Summit
The month was bookended by the UNWTO Sustainable Destinations Summit, which in 2023 took place in Mallorca. On the 30th, Michael interviewed Prof. Massimo Marchiori. Prof. Marchiori was the driving force behind HyperSearch, the backbone of Google's work as a search engine, which changed the way society is searching and using information in the most drastical way since Gutenberg invented the printing press. The interview revolved around how he sees how this affected the world of today and what he foresees to come?
The following day, Michael moderated a panel discussion on 'Living and Promoting Sustainability. He was joined by:
Mr. Mark Tanzer, CEO, ABTA, UK
Ms. María Frontera, President, Federación Empresarial Hotelera de Mallorca (FEHM), Spain
Mr. Miguel Sanz, Director-General, Turespaña, Spain
Mr. Andreu Serra, Conseller de Turismo, Consell Insular Mallorca
Mr. Thomas Ellerbeck, Member of the Group Executive Committee and Group Director Corporate & External Affairs, TUI Group
Some of the points up for discussion were how do destinations committed to sustainability, communicate and promote their attractions, products and services and strive towards a balance between marketing and storytelling? How do markets, operators and clients demand information and support. What have we learned from these responses to continue fostering sustainable and resilient destinations?
And that brought an end to another busy month for TravelMedia.ie, with April already looking like more of the same. Bring it on!