The month of November kept us all very busy from new events and meeting some fantastic hardworking individuals within the travel industry, to more celebratory nights and travel. Read on to find out everything we got up to this month…
TravelMedia.ie represents Visit Barbados at World Travel Market, London
TravelMedia.ie's Michael Collins, Ali Finnegan, Raluca Andronic, and Leslie Graham attended World Travel Market (WTM) in the ExCel Centre, London from the 1st to the 3rd November 2021 representing Visit Barbados / Barbados Tourism Marketing Inc. (BTMI) as their PR agency in the UK market.
World Travel Market is one of the leading annual events for the international travel sector, hosted in the ExCel Centre, London. The three-day event welcomes travel media, airlines, tour operators, hoteliers, and representatives from the travel agent community worldwide.
The TravelMedia.ie team, Michael, Ali, and Raluca, met with over 30 media from across the United Kingdom and Ireland during the event, forming and solidifying relationships with journalists, bloggers, and influencers, and securing press trips and media coverage for the Barbados tourist board for the upcoming year.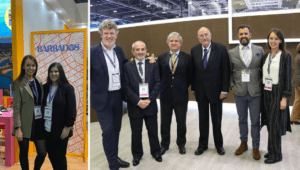 Image 1: Ali Finnegan and Raluca Andronic, TravelMedia.ie. Image 2: Michael Collins, TravelMedia.ie, Portugal WTM delegation and Ali Finnegan, TravelMedia.ie.
The Bajan Safari
Michael Collins and Leslie Graham travelled all over Great Britain with the Bajan Safari stopping off in London, Edinburgh, Aberdeen, Dundee and Chester. This exciting roadshow gave media and trade the opportunity to interact with hotel partners, enjoy live entertainment, delicious food, and rum cocktails.
The roadshow in Edinburgh was extra special as it celebrated Virgin Atlantic's new direct route from Edinburgh to Bridgetown.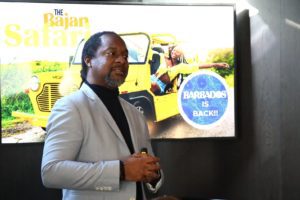 Leila attended the Ireland vs Portugal game with Visit Portugal
TTR's Leila McCabe attended the Ireland vs Portugal game with Visit Portugal at the Aviva Stadium. As always, fun, food and football were the order of the night.
Susana Cordosa from Visit Portugal invited the trade to the game and despite the lack of a score, the game did not disappoint as the atmosphere was electrifying. A big thank you to Visit Portugal for a wonderful night!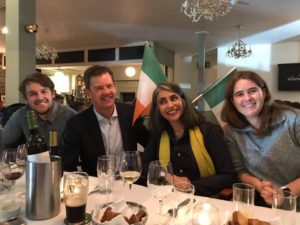 Leila attended the Travel Centres Conference on behalf of Visit Barbados
TTR's Leila McCabe attended the Travel Centres Conference on the 13th of November on behalf of Visit Barbados. The annual conference provides a fantastic networking opportunity for travel agents and trade partners in Ireland. Visit Barbados were delighted to be back engaging with Irish Travel Trade once again!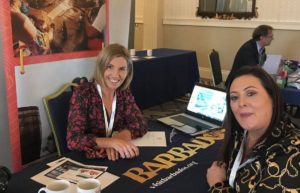 Leila attended the Visit USA Thanksgiving event on behalf of Bradley International Airport
On November 18th, TTR's Leila McCabe attended Visit USA's annual Thanksgiving Trade Night on behalf of Bradley International Airport. Over 30 members of the Visit USA Committee took part including tourist boards, airlines, and attractions. Bradley International Airport were thrilled to see our trade and media partners at a live event for the first time in 18 months!
This year marks the 400th anniversary of the very first Thanksgiving and the event was a great opportunity to celebrate the reopening of the USA to Irish visitors and to help the trade refresh their product knowledge.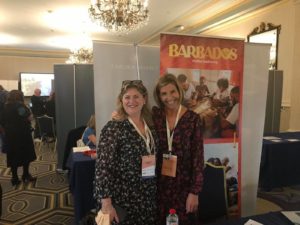 Ciara joins the team
TravelMedia.ie was pleased to welcome Ciara Dunne to the team at the end of November as a Junior Account Executive. She has previously worked as a Marketing Executive and has experience in traditional and digital marketing. Ciara has a keen interest in event management and all things PR.
Ciara's skill set includes:
Public Relations – Press release writing and media relations
Copywriting
Content marketing
Content creation
Graphic design
Social media management
Blog writing and SEO
Nantes Event
TravelMedia.ie hosted a press event on behalf of Nantes Toursime. This was TravelMedia.ie's first live event in over 18 months and was certainly a huge success. The media enjoyed a delicious French dinner in La Maison located on Grafton Street after a fabulous presentation on the wonderful city of Nantes from Xavier Theret. Guests also the opportunity to have a taste of some delightful wine from the region. A highlight video of the night can be seen below.
An office night out of celebrations
After a lot of travel and busy days throughout the month, our team here at TravelMedia.ie had a fantastic evening hitting the town and enjoying some delicious pizza and cocktails, celebrating the most recent birthdays and occasions. We'd like to wish another happy birthday once again to Leila, Michael, and Leslie, and a warm welcome to Ciara!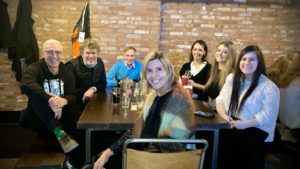 Barbados becomes a republic; Michael Collins attends the ceremony as a guest of BTMI
Barbados officially became the world's newest republic on the 30th of November 2021. In an overnight ceremony in the capital, Bridgetown, Dame Sandra Mason was sworn in as president, replacing Queen Elizabeth II as head of state.
Michael Collins from TravelMedia.ie attended the ceremony as a guest of BTMI / Barbados Tourism and the Barbados Government hosting and assisting the UK media on this special day.
Several leaders such as Prince Charles and Barbadian singer Rihanna attended the event, which coincided with the country's 55th anniversary of independence. Rihanna was honoured as a national hero during the inauguration.
MICE Conversations interview with Heather Colache, Director of Tourism at Atlantic City
TravelMedia.ie's video and podcast series 'MICE Conversations' released a new episode in November, Michael Collins, M.D. of TravelMedia.ie, interviews Heather Colache, Director of Tourism at Atlantic City
Meet AC (Atlantic City) is the newly formed meetings & convention sales arm for Atlantic City. Meet AC's primary mission is to book meetings and conventions in the Atlantic City Convention Center, Boardwalk Hall and with the hotel and casino industry.
The MICE Conversation video series is available on the TravelMedia.ie YouTube channel and as a podcast on Spotify and all other podcasting streaming platforms.
IPW 2021 Las Vegas
TravelMedia.ie attended the IPW inbound travel trade show earlier this year and interviewed a variety of individuals within the travel industry, where they shared their experiences of IPW 2021, Las Vegas.
As a leading inbound travel trade show, past IPWs have generated more than $5.5 billion in future travel by connecting U.S. travel exhibitors with travel buyers and media to promote their product and negotiate future business, securing America's position as a foremost global travel destination and showcasing the best of what the U.S. has to offer.
Click on the playlist below to watch our newest interviews and find out more about the experiences had at the live event.
Thank you for reading our blog 'What We Did This Month' – November. We'll be back next month with a round-up of our December antics. We have almost reached the end of an extremely busy year!