Press release date: May 20th 2019
Rory O'Connell's brand new series 'A Long Weekend in…with Rory O'Connell' on RTÉ One, sees the popular Cork chef enjoying the culture as well as the cuisine of eight European cities – Palma de Mallorca, Vienna, Lisbon, Madrid, Bath, Nantes, Copenhagen and Edinburgh.
In the new eight-part series, Rory vists a different city in each episode, and while the primary focus is on food, Rory is a knowledgeable guide to so much more, with art and design being interests of his.
"Food becomes much more interesting when seen in context – the culture it is part of, the landscape it's produced in, the history that has influenced it", he says.
Lisbon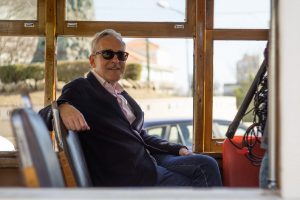 In episode three, which will be broadcast on 23rd May 2019, Rory visits the Portuguese capital city of Lisbon and starts his weekend with a picnic overlooking the city of seven hills. His first stop is Manteigaria Silva, an acclaimed delicatessen established in 1890, and a treasure trove of traditional Portuguese food.
Rory then ventures to Conserveira de Lisboa a shop specialising in artisan canned fish including tuna from the Azores, octopus, squid, mackerel and more. With its original 1930s decor still intact, and beautifully designed tins, this is a Lisbon food landmark.
The Jerónimos Monastery in the Belém district, a 16th century UNESCO World Heritage Site, is the next stop. The monastery is famous for its extraordinary 'Manueline' architecture, a unique Portuguese style which features hand carved seafaring elements such as sea creatures and coils of rope.
A trip to Lisbon wouldn't be complete without sampling the city's celebrated seafood cuisine. At Bairro do Avillez, Rory tries both giant shrimp and a delicious salted cod dish.
In search of a sweeter local delicacy, Rory visits Pastéis de Belém which is said to serve one of the best custard tarts in Lisbon.
His Long Weekend ends with a trip to the trendy LX Factory district, a former industrial area now brimming with restaurants, bars, shops, galleries, and food stalls. He enjoys a glass of Ginjinha liqueur beside the spectacular Tagus River and the 25 de Abril suspension bridge.
At home in Co. Cork, inspired by his Lisbon trip, Rory cooks Salt Hake with Pomme Purée and Roast Pepper, Balsamic and Basil.
Tune into RTÉ One on Thursday 23rd May to join Rory on his Lisbon adventure.
For more information please contact:
Niamh Waters
niamh@travelmedia.ie
+353860492394