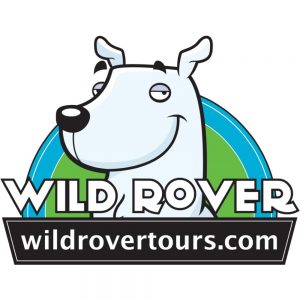 Wild Rover Tours is an award-winning, family-run business, providing specialised single day tours from Dublin and Belfast to some of Ireland's top sites, including the Cliffs of Moher, Glendalough, and the Giant's Causeway. Since being established in 2010, Wild Rover Tours has gone from strength to strength and has been named the number one day-tour in Ireland and number six in the world by TripAdvisor.
In search of a new business venture and having had experience in the tourism industry, John and Jacqueline Goldrick founded Wild Rover Tours in 2010. John explains he "was always intrigued by the day tour business, it appeared to be fun with potential to be profitable if operated well". Read on to find out more about John Goldrick, Director of Wild Rover Tours…
John Goldrick – Background
After graduating from University College Dublin with a BA in Economics and Political Science, John Goldrick spent many years working in the financial sector. Following this, he began to invest in property and development and entered the tourism industry as he owned and managed guesthouses, one of which was rated the best in Dublin – Lisadell, Glenageary. During the 2009 recession is when John and Jacqueline Goldrick decided to cut their losses and jump into the tourism industry full swing and so, Wild Rover Tours was founded.
About Wild Rover Tours.
Based in Dublin, Wild Rover Tours is Ireland's top day-tour operator, offering quality, excellent-value tours throughout Ireland. When it was first established, John explains "I had no intention of opening a business that was dependent on the domestic market so, we set about designing a range of tours that were innovative and different to what was of offer at the time" and so, Wild Rover Tours began by offering day-tours to top attractions close to Dublin, including Wicklow Goal, Kilkenny City and Glendalough.
John added "A very special thanks needs to be said. Without the support of Mr Paul Hayden of the then Dublin Tourism our company would have closed in its first year. We needed an outlet from which we could showcase our tours to the market. Mr Hayden agreed to lease us a small sales desk at the head office of Dublin Tourism in Suffolk Street. The rent of the desk was €2,500 plus vat per month, but it gave a struggling business the oxygen we needed to survive."
According to John, by "focusing on what the mass population wanted but, doing it better" Wild Rover Tours was successful and made the decision to go national and now offer routes inclusive of the Cliffs of Moher, Galway City, the Giant's Causeway as well as the Game of Thrones attractions, introduced in 2019.
Today, Wild Rover Tours is well renowned in the tourism industry and has won many awards over the years which John says includes "the 5-star Certificate of Excellence accreditation from TripAdvisor, in 2014. Every year since 2015 we are consistently rated as the Number 1 Operator in Ireland. In 2019 we were rated in the Top 10 tour operators in the World on TripAdvisor".
John mentions another aspect of the business is their tourist offices "We opened our first dedicated sales office in 2012, the Temple Bar Tourist Office and in 2013, the Tourist Office Dublin, 33 Bachelors Walk, Dublin 1" which has given Wild Rover Tours front line access to the tourism market.
What sets Wild Rover Tours apart from its competitors?
According to John, Wild Rover Tours pride themselves in "the recognition of customers preferences" John continues, "the routes we cover are similar to the competition but, our attention to service is superior. We add extra value to our tours such as Sheep Dog Trials, Walking Tours, packing Galway City with the Cliffs of Moher attraction costs included.".
An interesting separating factor is that Wild Rover Tours provide "dedicated tour guides on every tour in comparison the competition, who employ one single employee as the driver as well as the guide when on tour".
Wild Rover Tours are dedicated to providing excellent customer service "in all aspects such as health and safety of passengers, and problem-solving protocols should we have an emergency on tour. Our phones are answered 365 days per year between 7.30am – 9.30pm. Walk in offices in the city centre are open 361 days of the year between 9am – 6pm in the winter and 9am and 7.30pm in the summer and All emails will be responded to within 30 minutes ".
Among many other things, John explains a huge focus for Wild Rover Tours is their environmental impact, he explains that they are the "only operator with a city centre depot therefore minimising the emissions on traveling in and out of the city at the start and end of the day. This is also a health and safety positive; the driver's hours are reduced by 30 minutes every day."
If you weren't working in the tourism industry, what would you be doing?
John is passionate about the environment and said he would be "retired to farming or working on programs to protect the natural world."
What measures is Wild Rover Tours taking to ensure COVID-19 guidelines are maintained when operations resume?
John explains that Wild Rover Tours is "using this time to ensure the coaches are in perfect condition. All coaches have gotten a deep clean and we have new equipment coming in for our coaches, including screens and medical grade air purifiers which are proven to kill bacteria". The company also plans to "reduce capacity on the coaches by 25% and staff will be trained on how to implement and maintain social distancing and hygiene standards". Wild Rover Tours continue to operate a flexible refund policy to ensure peace of mind for all customers.
What makes Ireland so special as a holiday destination?
Ireland is a hugely popular holiday destination for holidaymakers of all backgrounds, with something to offer everyone. From customer feedback and his experience in the tourism industry John says that "one of the reason tourists are attracted to Ireland is because of the friendliness of the locals" as well as "the quality of the restaurants and pubs in comparison to other European destinations ".
John continues to explain "the cool weather in the summer is a big attraction for American tourists, and tourists from many other countries. Our history of mass emigration is also of huge interest to tourists, many people of Irish descent are fascinated in learning about their heritage."
What is the future for tourism in Ireland?
According to John, this "all depends on easy and affordable access to the island of Ireland. We are now competing against practically every location in the world, so we need to constantly focus on affordable access to our island, as well as the quality of the tourism service offered at competitive rates ".
John continues, "there is a reason why Dun Laoghaire and the Stena HSS pulled its service. Dun Laoghaire was the second busiest point of entry to Ireland after Dublin Airport. The market has changed, people are taking more holidays and breaks than ever before but, now the time spent at a destination is shorter. The vast majority of visitors to Ireland are on 3-day trips".
Please email niamh@travelmedia.ie for any queries regarding Wild Rover Tours press collaborations and/or interviews.