Amidst the Covid-19 Pandemic, the team here at TravelMedia.ie towers reached out to our travel industry and media friends to find out what their favourite memories of their times in Barbados were. Take a look at their responses below…
So I love Barbados, especially the food. But the coolest thing is that every morning, the racehorses of Barbados are brought down to the ocean for baths and because the saltwater relaxes their muscles. And anyone can go and join. You simply show up a little bit before sunrise. There're usually a few tourists there, a few locals, and you can just hang out in the water with the horses. Coolest morning ever. And it's right outside the gates of The Hilton so if you're staying at The Hilton, it's a couple minutes from your room. I loved it, I'd go back just for the horses again.
Tara Hynes, Travelport Ireland
I was 23 the first time I went to Barbados and it was my first proper foreign expensive holiday. There was six of us and we had saved for a long time to be able to go. And we were so excited but I think mixed with the excitement was this fear that maybe it wouldn't compare to the picture we had in our imaginations of the Caribbean. But it didn't disappoint, it was incredible. It was the most amazing two weeks of eating flying fish and roti and drinking Mount Gay rum, probably too much of it, and partying with the locals in St Lawrence Gap. And the beaches and the sea and it was just incredible. And the six of us are still friends and we still talk about that holiday. And I think it's the holiday we compare other holidays to. And we probably don't say it very loud or very often but I don't think anything has come close. I think the Caribbean, and particularly Barbados, is just somewhere that's good for the soul.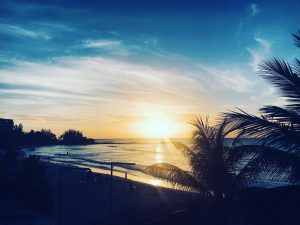 My favorite memory from Barbados is the time that I was walking across to a restaurant for dinner and just as I crossed the road, I noticed a baby turtle in the gutter of the road. He'd obviously gotten turned around from the beach and gone towards the road instead of the sea. So I picked him up and I brought him back over to the beach and there were luckily volunteers on the beach collecting the baby turtles to bring to a safe place to release them, so yeah, I tucked him in with, I guess, his brothers and sisters and it was just the most magical experience ever. I didn't take a photo or anything. I was just so obsessed with this little baby sea turtle in my hand. So, so cute. Something that you'd never get to do anywhere else. So, yeah, magical.
THREAD. I was crossing the road in @Barbados and saw a baby turtle struggling on the road. He'd gotten turned around & was heading away from the sea (at risk of getting squished by a car). So I picked him up & brought him across the road to a group of volunteers on the beach. pic.twitter.com/CWDWNXxpI7

— Tara Povey (@whereistarablog) September 18, 2019
I went to Barbados back in 2008 primarily to watch the Australia versus West Indies test match that was on at that time. And it was just so much fun from the infamous party stand and then, on subsequent days, just sitting in the normal Stadium with the normal people from Barbados. It was just so much fun to do something that seemed like a typical event there while watching some cricket.
I particularly loved St Nicholas Abbey which is in the center of the island. And one side it looks down towards the Atlantic Ocean and on the other to the Caribbean Sea. Both with their very distinctive coastlines. St Nicholas Abbey was actually a sugar plantation and it was built back 360 years ago and it details life on a plantation and their celebrations, their parties, their Crop Overs. And it's a wonderful record of what life would have been like. I must say something that has always stuck with me was, in the kitchen, they had this framed pages from a record book of the slaves who worked there in 1822. The most valuable being 150 pounds and the least valuable, a little girl of 6 called Mimbo who was worth five shillings. That always stuck with me. That, and the fireflies at sunset and the fabulous food. It's a great place.
This is Kerwin, and I went to Barbados last year, I think it was October, it was. Had an amazing time. Best thing about Barbados is its people and the food. Also had a really, really good time at an area called Animal Flower Cove. That's probably not the right name but if you go all the way up to the north and you get to Animal Flower Cave, just walk around that area. It's amazing, the landscape is just beautiful. There's the blowholes of water coming up. I love Barbados.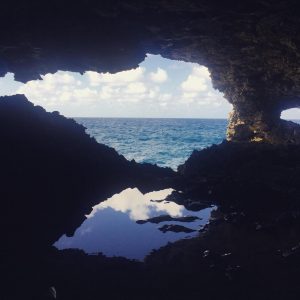 Barbados, one of the most beautiful places on this planet. Why do I love it? Well, the crystal blue waters, that beautiful soft, white sand, all the water sports, jet skiing, snorkeling, just lazing by the pool, lazing by the beach, enjoying the local markets, enjoying the local people and of course the food. So when I'm back here during the winter reminiscing, what do I do? I come to my little shebeen here in my home and I look up my bar, and I pick down the best and finest rum from Barbados, XL Mount Gay, wow. What do I do? I just simply pour myself a lovely glass of rum and coke, and just dream and dream and dream about the lovely days which I have spent in the beautiful Barbados. Barbados, you cannot beat it. And, of course, you cannot beat the rum and coke. So this is what I do every so often. I sit back and I go, "To my next vacation in Barbados." Cheers, enjoy.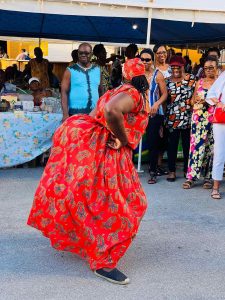 I done talked the truth about King Bubba and Barbados. ♪ I got a job that I don't like ♪ ♪ They want me to work the whole night ♪ ♪ I'm so fed up with this ♪ ♪ And I'm flying for the whole night ♪ ♪ They don't wanna give me no time ♪ ♪ But I know I'm not missing this ♪ Meet you on the road for Crop Over, Foreday Morning and Grand Kadooment. And tell them Bandana Man sent you.
If you're looking for a little bit of paradise, then Barbados is one of the best destinations you can choose from as a traveler. But I just wanted to give you a little tip, if you can tear yourself away from the white sand beaches and the crystal clear water for just a day or two, then head inside to the interior of the island and look for the little rum shops that you'll find there. They are the epicenter of culture on the island and you will see a whole different side to Barbados.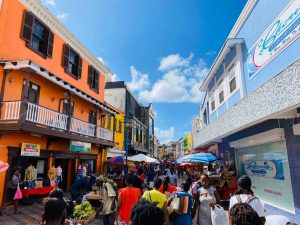 I have some great memories of my trip to Barbados. It's over 20 years ago since I was there but I remember it so well. We hired a little moke, a tiny little car, and drove all around the island and I was really struck by the contrast of the surfy east coast, the lively south coast and then the Caribbean Sea on the west. It's such a diverse little island but it's fabulous. Another highlight for me was dining in The Cliff restaurant where it's a torchlit cliff with stingrays swimming as you're dining, incredible food, and yeah, it was one of the most amazing settings I can remember. I would go back to Barbados in a heartbeat.
My favorite memories of Barbados have to be the minibuses, particularly taking the ones over to Oistin's Fish Fry on a Friday night, and they are absolutely heaving with people. Every time they stop, there's a huge fuss as people climb over each other to get in and out. And some of them are literally like mobile night clubs, they're fantastic, with strobe lighting and big sounds, big sounds. So, for me personally, actually my bestest thing on Barbados was unique to me because I'm a specialist and it's my specialty. I managed to find the Space gun. It was a 1960's project to deliver small satellites into space from a gun. The Canadians and the Americans picked Barbados 'cause it was close to the Equator and if you go to the tourist office, they may be able to put you in touch with the army base which it's on, which is just on the edge, just under the ridge where the airport is and they'll take you out there and you can see it. It is enormous. It's rusting now. But it was amazingly spectacular when it was used, and very successful.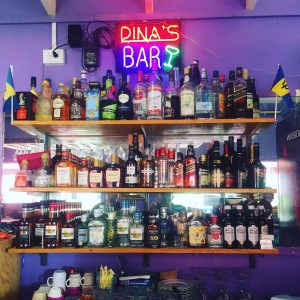 Well I've been to Barbados many times but the most memorable trip I ever did was a long, long time ago when I worked in Heathrow at Terminal 4 with the world's favorite airline, where I finished an early shift, straight onto a 747 and across to Barbados. We had six hours in Barbados. We went out on the Jolly Roger, back for something to eat and then we were poured back on the aircraft where we all slept, straight back and in for an early shift the following morning.
My favorite Barbados moment is of walking the few steps from my hotel room, it was a lovely hotel on the west coast, to the beach. And I would wait until everyone else had left for the day and just as the sun was about to set, I'd have a dip in the ocean. It was surreal. It was blissful. I still think about it many years later. And when it came time for me to leave the island, I really didn't want to go. I'd fallen totally in love with it. And I really think it's time I go back.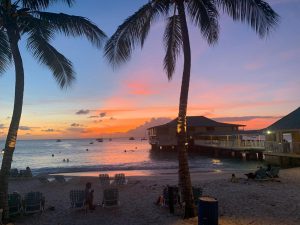 My favorite memory is on a cruise stop. I was on an eleven night Southern Caribbean cruise with my best friend, Jacinta, a few years ago. And it was onboard Celebrity Equinox but we stopped off in Barbados and the first thing that hits you is this warm feeling of Caribbean music, the atmosphere, the colours but most of all, the friendliness of the people there. Beaches are amazing, everything. So we met this guy, he was a driver. He brought us around the island. He brought us around, showed us the sites, brought us to Sandy Lane, brought us to the most beautiful, the oldest church in Barbados called Saint James. It was absolutely beautiful inside, really picturesque. And then we went up as far as this beautiful, it was up in the mountaintop, makeshift bar so we went in and of course we had to try the Banks Beer. Nobody twisted our arm. I would have to say Barbados has just everything, has the most beautiful beaches, fabulous weather, really, really friendly people, and I will be back. It won't be my last visit and I would highly recommend anybody to give it a visit.
My top five reasons to going to Barbados is, number one, their Food and Rum Festival is phenomenal. And speaking of rum, the second thing you can do is go to Mount Gay Rum, they offer a tour of their distillery. And along with getting the history and learning how rum is made, you can do a little tasting. Number three, definitely the beaches. They are open to the public. They are safe. Number four, you can take a catamaran excursion out on the water. Beautiful, crystal blue. Definitely clear, you'll love it. Number five, it's definitely the culture. There's a lot of history. Did you know that George Washington actually came here? You can't go wrong so definitely check it out.
I visited Barbados a couple years ago as part of an island hopping trip in the Caribbean. And I went there specifically because Bridgetown is a UNESCO-listed city and I collect the UNESCO sites. My greatest surprise was that there are over 365 churches so you can visit a different church every day of the year. And what I also liked is that I went on a sailing trip and I could see some turtles that I have never, ever seen so close in my life. Look at that one.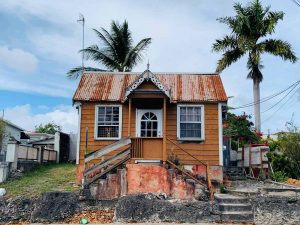 Kimberley Tate, Stuffed Suitcase
Hey, you guys. Kim here with Stuffed Suitcase. And I remember Barbados well. I mostly remember the sunsets. I had some amazing sunsets there. I remember one night, in particular, we were at The Hilton Barbados and there's a point called Needham's Point and there's these old cannons that are from an old fort that was there, and that night, we had the most spectacular sunset. The sky was just amazing. It was full of yellows and reds and purples and blues, and all of us just congregated there, took time. Everything was quiet and we just watched nature put on a show. So, definitely remember Barbados for their amazing sunsets and I look forward to returning.
Hi, it's Jane and Duncan from To Travel Too. Hi, everyone. A wonderful memory about Barbados is going down to the beach at sunset and enjoying the time with the locals. A must-see is to take a day trip around the island. And recommendations, well, we've got so many but take a Bajan food tour. And make sure you take a degustation Mount Gay tour. And, a tip if we had one… Stay longer. Enjoy.
Well, Barbados has definitely become one of my favorite islands. If you're going for the first time, I would recommend, for sure, that you take an all-inclusive holiday. I think that makes a lot of sense. And don't be afraid to go out. The people in Barbados are so friendly. Safe island, in my opinion. And to take an excursion, I would recommend Cool Runnings, which is this excursion on a catamaran along the west coast of the island. Great fun. Enjoy Barbados.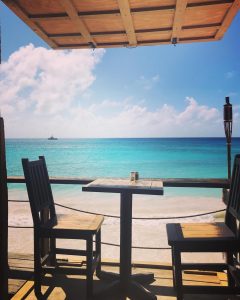 We hope you enjoyed reading our blog 'Memories of Barbados'. Find out more information on the Gem of the Caribbean here.