On the 27th February 2018, I set off on my journey to San Diego for Social Media Marketing World. I travelled with American Airlines and was lucky enough to turn left when I boarded the plane for my first flight from Dublin to Philadelphia!  Having never flown business class before, I was beyond excited and couldn't wait to try out the lie-flat beds and delicious food! Here is my experience of my first time flying Business Class with American Airlines.
My welcome to Business Class
Eager to begin my journey to Philadelphia, I was thrilled to find that I could go to a dedicated Business Class check-in desk which featured no queue! Once we had gone through pre-clearance it was then onto 51st and Green, Dublin Airport's US pre-clearance lounge. Access to this lounge is complementary to business class ticket holders – lucky me!
On the plane, instead of turning to my right, for the first time ever I was welcomed and directed to the curtain on my left. A friendly flight attendant brought me to my window seat and helped me to store my carry-on in the overhead space. I sat down with delight and before I could properly take in my surroundings I was offered a beverage of choice. As I settled into my seat I began to see all the luxuries of Business Class. The armrest contained a remote for the TV, an amenity kit of flight essentials and a control pad that lets you adjust just about every aspect of your chair. A pillow and a neatly folded blanket were left on the leg rest for use with the lie-flat bed, not to mention all the SPACE I had!
Perks
Before take-off, the flight attendant came back with my orange juice, some mixed nuts and handed me Bose headphones and an expansive dinner menu. Looking at the menu I realised I was spoiled for choice! The perks of Business Class were already evident, but more was to come. As I investigated my Cole Haan amenity kit, I found flight socks, a toothbrush, toothpaste, mouthwash, a sleep mask, fresh foam covers for the Bose earphones, ear-plugs, and a small tub of moisturising lotion. I'm sure my beaming smile was a giveaway that this was my first time flying Business Class.
Cuisine
Eating in Business Class was like dining in a 5-star restaurant in the air! As I mentioned before, the menu provided various food options and, as a vegetarian, this was such a treat for me. All my dietary needs and desires were met!  I had a choice of three appetizers, I chose the 'Marinated Heritage Carrots'.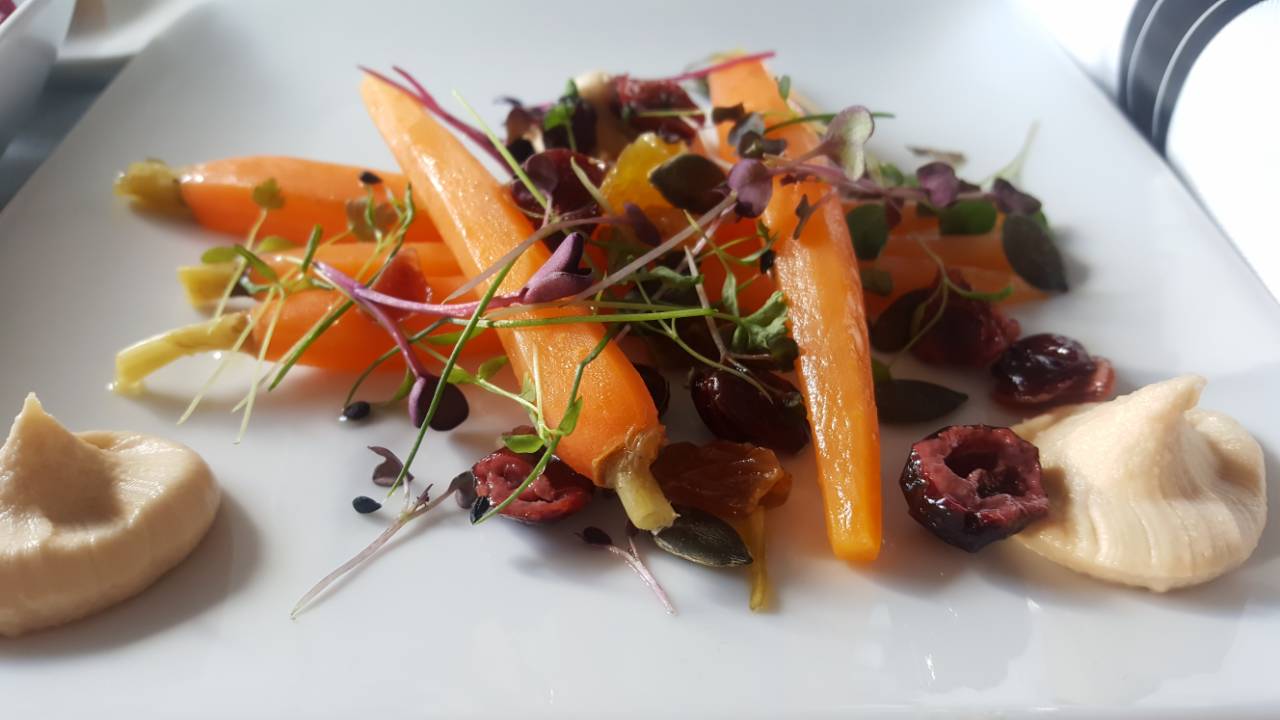 For the main course, I had one of my favourite dishes 'Vegetarian Korma'. Despite feeling full, I could not resist the 'Chocolate Orange Cake' for dessert. Each meal was delicious – I couldn't have been more satisfied.  The menu is inspired by Michelin starred Chef and British restauranter, Mark Sargeant.
Lie-flat bed
Everything about your seat ensures maximum comfort but the lie-flat bed was the highlight of Business Class for me. After polishing off every single meal and completing some work on my laptop, it was time to recline, all the way! I wrapped my cosy blanket around me and selected a movie to watch. This was pure bliss!
Service
The service in Business Class on board American Airlines was exceptional. The little extras make a world of difference. Whatever I was drinking, the flight attendant would reappear right before I had emptied my glass. Before and after meals, all Business Class passengers were given a hot towel to refresh our hands – this was then promptly collected with silver tongs. Dinner was served on a white tablecloth, with the added extras of warm bread and the cutest salt and pepper tray.
Afterwards, a small box of chocolates was placed before me. There wasn't a moment where I felt I needed anything more than I was provided. The phrase, 'It's about the journey, not the destination', could not have been more appropriate. I never wanted the flight to end!
Have you flown Business Class? What was your experience like? Tweet us TravelMedia.ie and let us know!