If there are two things we love here at TravelMedia.ie it's events and social media so when the time comes to combine these two things, we take it very seriously.
If you have ever been to one of our events, you will know that we are constantly posting pictures and updates to our social media channels throughout. Whether the event is big or small you can guarantee that we'll be keeping our followers up to date with posts, check-ins, tweets and social snaps.
Although from the outside, it may seem as if we do most of this posting on the go, there is in fact a great deal of preparation that goes into organising the social media coverage for one of our events.
It is this forward planning that allows to us to make sure we are giving our tweets and posts the best chance of being shared, retweeted and liked by as many people as possible.
In order to help you make your next event a social media success, we've laid out some of our top tips for planning social media for an event.
1: Make a plan
Before an event, most organisers usually have a general idea of the running order. This is extremely useful for social media planning as knowing when certain things are happening means you can devise a general plan of what you are going post and when.
It is also a good idea to make a list of any key points in the evening that you really want to highlight on social media such as a special performance or a particular speaker.  
2: Research handles
If you really want your event to make social media waves, you need to make sure the right people are receiving your updates. Here at TravelMedia.ie, we spend a great deal of time before an event researching the social media handles of our sponsors, attendees and those who may be interested in our updates. Having a list of these social media handles in advance means we save time looking up them up at the event itself.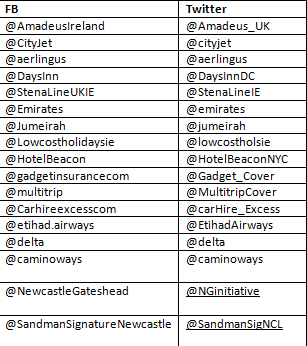 3: Create a hashtag
Creating a hashtag for your event serves a number of purposes. Firstly, it encourages those at your event to get involved in the online conversation. It also gives you an easy way to track the online conversation and interact with attendees.
It's also important that you promote this hashtag before and during your event so those attending know that it exists. There are a number of effective ways to do this, if there will be a screen at your event, create a slide with all of your social media information on it that plays throughout the evening. Another great idea is get all of your handles and hashtags printed and hand them out at your event.
You should also make sure that your hashtag isn't already being used for another online conversation as this can lead to confusion.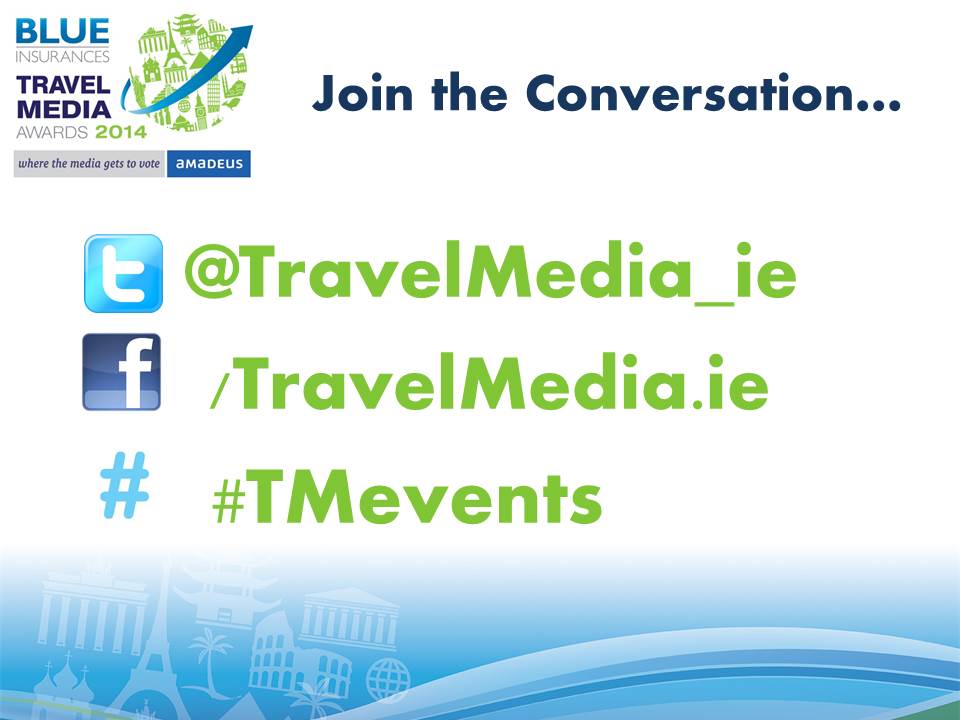 4: Prep those tweets
Although a large majority of tweets and Facebook posts will be written on-the-fly, there will always be some that you can prepare in advance.
Once you have devised your general posting plan, take a look and see which parts of your event are set in stone. For example, if you are running an awards ceremony, you will be able to prep the tweets for the award winners in advance or, if your event has presentations, you will be able to prep tweets announcing the speakers in advance.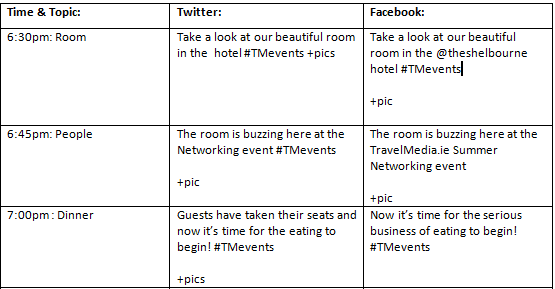 5: Create a master document
Once you have your plan drawn up, handles researched and tweets prepped, paste them all into one easily accessed document. You should then make sure that you can access this document on both your laptop on your phone.
Having all of this information in one place means you won't be wasting time searching for something or running back and forth to your computer, after all, social media is a social job that should have you up on your feet interacting with your guests and snapping away!
Are you running an event? Would you like to know more about to plan your event's social media presence? Contact a member of the TravelMedia.ie team who will be happy to advise you.