It's safe to say that we all know just how powerful videos are when it comes to marketing your business. Whether it's on YouTube, Vine or Instagram, a good video can make a huge impact on your audience and can make your business stand out from the rest.
With more and more businesses opting to use video to market themselves, Facebook is trying its best to become the number one way for marketers to get their video content seen by the right people.
While just a few short months ago, most users would have uploaded a video to YouTube and simply shared the link on Facebook, they now have the option to upload videos directly to Facebook itself and by-passsing YouTube all together.
Why is this better you might ask? Well, directly uploaded video adverts have up to 11x larger images in Facebook's News Feed – perfect for helping drive more views to your video. Uploading directly to Facebook can also increase engagement with many brands seeing more likes and shares on directly uploaded videos compared to videos uploaded to YouTube.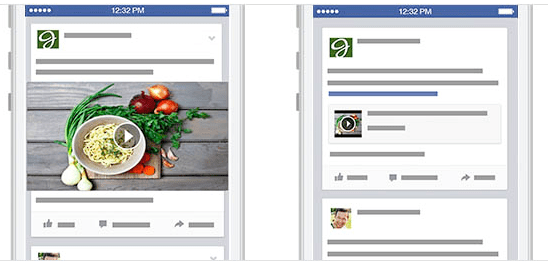 Facebook have made it very easy for businesses to make the most of their video campaigns and there are some particularly handy tools that every video marketer should know about.
Video views objective:
In 'Power Editor' or the 'Create Ads' section, Facebook gives an option for 'video views' which allows you to easily create video advertisements. In this section you can do a number of things to your video including adding text and selecting the interests, location, age, gender and behaviours of your target audience. Facebook also automatically optimises videos uploaded this way and shows the video to the users who are most likely to view it.
Video Metrics:
You can find the metrics and information for your video in 'Adverts Reporting'. These metrics will give you a great idea about how your video has performed. You will be able to find out information such as, the average duration users watched your video for, the average % of the video that was viewed and the amount of play clicks the video received.
Call-to-action button:
As well as the above, Facebook also allows users to create a call-to-action button to redirect any viewers of their video to their website. This is a very important tool for any business as it means people that who view your video will have easy access to your site and, as a result, will be more likely to visit it.
Goodbye Youtube:
So why are Facebook concentrating so much on video advertising? It's simple really, Facebook want to take away YouTube's status as the go-to website for video and, thanks to some of the changes mentioned above, it seems to be working.
According to research carried out by Socialbakers, there was a 50% increase in the numbers of marketers uploading content directly to Facebook between May and July of this year. This study also showed that the share of interactions of the 180,000 videos that were analysed decreased for YouTube and increased for Facebook between January and September 2014.
It was once difficult to imagine any site ever replacing YouTube however, it seems that, for marketers, Facebook is definitely the new place for videos to be seen.
Are you interested in using Facebook video adverts? Contact a member of the TravelMedia.ie team who will be happy to answer any of your questions!