Press release date: 7th November 2017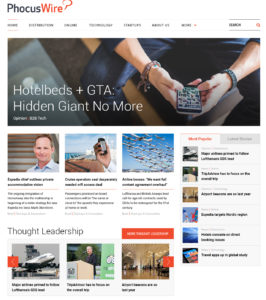 Phocuswright, the travel industry research authority, announces the launch of PhocusWire, an integrated news platform delivering daily news, interviews, analysis and opinion covering digital travel commerce, technology, distribution and startups globally.
Technology and distribution form the backbone of travel, tourism and hospitality, one of the world's largest industries. Powered by Phocuswright, the preeminent global authority in unbiased travel research and events, only PhocusWire provides daily exposure to sought-after research, valuable industry data and expert analysis through a dedicated website and comprehensive newsletter.
PhocusWire's Editor-in-Chief, Kevin May, promises a daily diet of news and analysis, addressing travel technology, digital travel commerce, startups, distribution trends, investment activity in the sector and  initiatives involving cutting-edge new forms of IT .
The free PhocusWire newsletter offers subscribers an invaluable news companion that provides unique content, market intelligence and gives those at the heart of the industry the knowledge to make better decisions and understand what is happening around them. Complementing the daily newsletter is PhocusWire.com, which provides expanded Phocuswright content and additional independent editorial content for subscribed users.
Content is key with PhocusWire. "Having access to both Phocuswright content and editorial content from the dedicated and experienced team at PhocusWire, provides subscribers with invaluable information that will transform their businesses," said Bob Sullivan, President, Northstar Travel Group. "PhocusWire brings expertise, awareness and objectivity to the market with a powerful and relevant media brand. No other daily content provider has the deep, research-driven assets and established reputation that both Phocuswright and Northstar Travel Group deliver."
Subscribers can sign up to receive PhocusWire daily newsletters at PhocusWire.com.
About Phocuswright Inc. (www.phocuswright.com)
Phocuswright is the travel industry research authority on how travelers, suppliers and intermediaries connect. Independent, rigorous and unbiased, Phocuswright fosters smart strategic planning, tactical decision-making and organizational effectiveness.
Phocuswright delivers qualitative and quantitative research on the evolving dynamics that influence travel, tourism and hospitality distribution. Our marketplace intelligence is the industry standard for segmentation, sizing, forecasting, trends, analysis and consumer travel planning behavior. Every day around the world, senior executives, marketers, strategists and research professionals from all segments of the industry value chain use Phocuswright research for competitive advantage.
To complement its primary research in North and Latin America, Europe and Asia, Phocuswright produces several high-profile conferences in the United States and Europe, and partners with conferences in China, Singapore and the United Arab Emirates. Industry leaders and company analysts bring this intelligence to life by debating issues, sharing ideas and defining the ever-evolving reality of travel commerce.
The company is headquartered in the United States with Asia Pacific operations based in India and local analysts on five continents.  Phocuswright Inc is a wholly owned subsidiary of Northstar Travel Group.
About Northstar Travel Group  
Northstar is the owner of well-known brands including Travel Weekly, TravelAge West, Business Travel News, Successful Meetings, Meetings & Conventions, Travel Weekly China, Incentive, M&C China, and Web in Travel. The company produces more than 75 face-to-face events in 13 countries in retail travel, hospitality, corporate travel, travel technology, sports travel, and the meetings industry. In addition, Northstar owns Phocuswright, the leading research, business intelligence, and event producer serving the fastest growing segment of the travel industry, online travel distribution. Northstar is also the majority shareholder in Inntopia, the leading SaaS e-commerce software, CRM database marketing and predictive analytics business serving the mountain destination, activities, and specialty destination travel markets. Burba Hotel Network, the leading producer of hotel investment events globally, has more than 140 conferences in 22 countries attended by nearly 100,000 international delegates.  BHN's network includes over 25,000 hotel industry leaders in over 140 countries.  Based in Secaucus, NJ, the company has offices in New York, NY; Stowe, VT; Denver, CO; Edwards, CO; Los Angeles, CA; Costa Mesa, CA; Winston-Salem, NC; Glen Ellyn, IL; and global offices in Singapore, Beijing, and Shanghai.
Northstar Travel Group is owned by funds managed by EagleTree Capital.
About EagleTree Capital  
EagleTree Capital, formerly Wasserstein Partners, is a leading independent private equity and investment firm, focused primarily on leveraged buyout investments and related investment activities. EagleTree manages capital on behalf of institutional and individual investors. The firm is focused on investments primarily in the media and communications, consumer products, and water and industrial sectors. EagleTree is located in New York. For more information, visit www.eagletree.com.
TravelMedia.ie
Michael Collins
Ph: +353 8583585
Email: michael@travelmedia.ie
Niamh Waters
Ph: +353 85 1205112
Email: niamh@travelmedia.ie
Michelle Ryan
Ph: +353 83 1042620
michelle@travelmedia.ie
Follow us on Twitter on www.twitter.com/TravelMedia_IE and Facebook on www.facebook.com/TravelMedia.ie