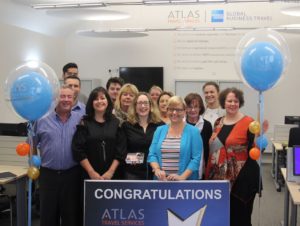 Press release date: 16th October 2017
Atlas Travel Services are delighted to announce that they have won the 'Best Customer Service' award at the American Express Global Business Travel (GBT) Partner Network event. 
Pictured: The Atlas Travel Services team in their offices on Pearse Street, Dublin.
At the annual event Atlas Travel scooped the overall "Customer Service Excellence Award 2017", ahead of stiff competition from over 140 markets represented worldwide.
Stephen Mc Kenna, CEO, Atlas Travel Services said: "The Atlas difference is our ability to deliver smart solutions coupled with our commitment to deliver the highest quality, personalised service, while helping companies transform their travel programme. This award acknowledges our commitment to service excellence, and is based around real business traveller experiences. Through solicited feedback from thousands of travellers we have been able to shine a light on customer priorities, analysing their experience at multiple levels and continually improving our service offering and help them to concentrate on the business objectives rather than on the logistics of their trip."
He continued, "Our mission at Atlas Travel evolves around the customer experience and exceeding their expectation every time. We strive to help our customers to drive improvements in their travel programs, and to advance the business travel sector overall through technology, local expertise and global best practice. We are very proud of the contributions we have made thus far to advancing corporate travel in Ireland and look forward to growing and evolving in this rapidly changing environment."
By combining the global expertise of American Express Global Business Travel and the local insight of Atlas Travel they are in a unique position to provide customers with best global practice and local insight.
About Atlas Travel
Atlas Travel is a modern travel company who have driven change and innovation in travel for over 50 years. We are a next generation corporate travel management company with a difference. We are an Irish-owned and managed company who have been recognised by Deloitte as a "Best Managed Company 2017" and have been voted "Best Corporate Travel Management Company" in 2015 & 2016 by the Irish Travel agents association. Atlas Travel also won "Innovator of the Year Award 2017" at the Irish Travel Media Awards.
For more information contact Stephen McKenna, CEO, Atlas Travel Services at smckenna@atlas.ie. 
TravelMedia.ie
Michelle Ryan
Phone: 083 1042620
Michael Collins
Phone: 086 8583585
Niamh Waters
Phone: 086 0492394
Follow us on Twitter @TravelMedia_ie and on Facebook www.facebook.com/TravelMedia.ie.